This crap is getting old. Let's make this really simple. There's only two genders. And if there's anyone that can't believe what I just wrote, let me say it again — there's only TWO genders. It doesn't matter what kind of human sudoku math you do to come up with all these extra genders, when it comes down to it, there's only two.
Former Olympic swimmer for Great Britain Sharron Davies recently got herself in a bit of hot water after sending out a tweet that you don't need to know anything more than basic math to understand.
"Binary sex matters," Davies wrote on Twitter, concluding her now controversial tweet.
The purpose of Davies' tweet was not to disparage the trans community, it was to point out basic biology.
Here's the offending tweet in question: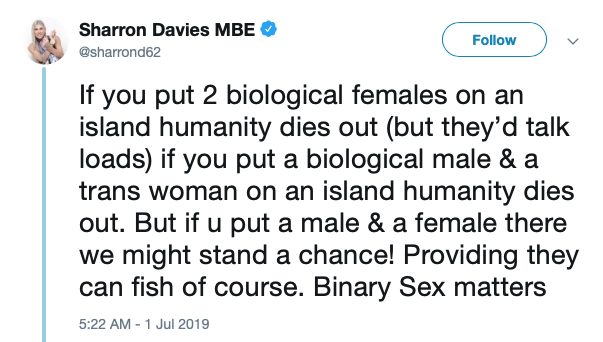 I don't see where the problem lies from a gender determination standpoint. Was there something inaccurate about Davies' tweet? Did I miss a meeting?
People on Twitter lost their minds: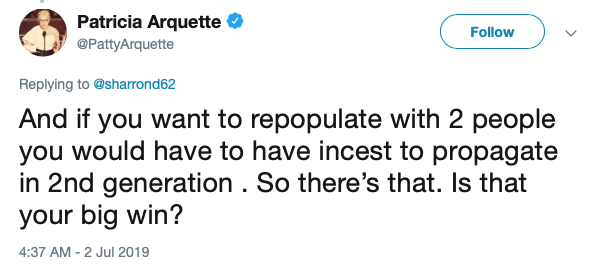 Is it just me, or is the left gotten to the point where they've become nothing more than insufferable? It's like they take everything as literally as it can possibly get while at the same time completely missing the point.
The funny part is that while Davies' does believe that there are only two sexes that can reproduce, she also believes that "gender" is "fluid."
Davies' sent out a subsequent tweet somewhat explaining her stance: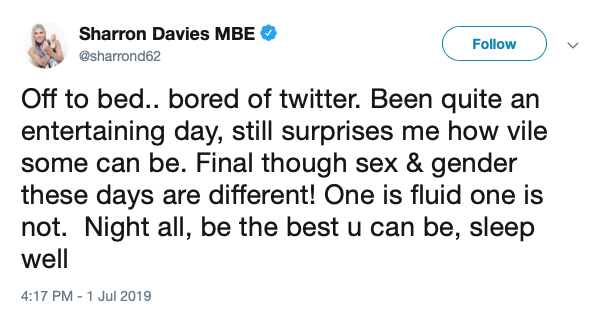 I'm sorry. Is there a difference between sex and gender? I'm apparently missing a lot of meetings lately.
I was completely on Davies' side until that last declaration. Let me rephrase what I said earlier. Whether you call it "sex" or "gender," there are only two of them.
Phew! I feel better.
H/T: Daily Mail