As part of an effort to try to shift the narrative away from Islamic terrorism in the wake of the Manchester Arena attack, Cosmopolitan intentionally conflated Muslims with Sikhs to promote the idea that Muslims are nothing but helpful and accommodating to those in need.
In a now-deleted tweet, Cosmo posted a photo of a Sikh man and wrote, "Muslim Taxi Drivers Took Kids Trying to Escape the Manchester Ariana Grande Concert Home for Free."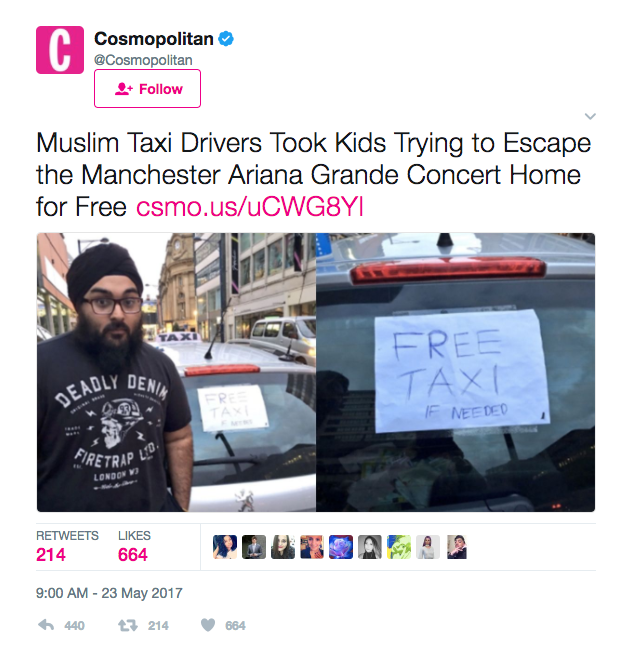 The problem is, however, the man in the photo is Sikh — which Cosmo's editors were apparently aware of when they published their tweet.
An earlier also now-deleted tweet from Cosmo's photo editor Mylan Torres shows her asking Harjinder Kukreja, an openly Sikh man, for permission to use his photo about providing people free cab rides.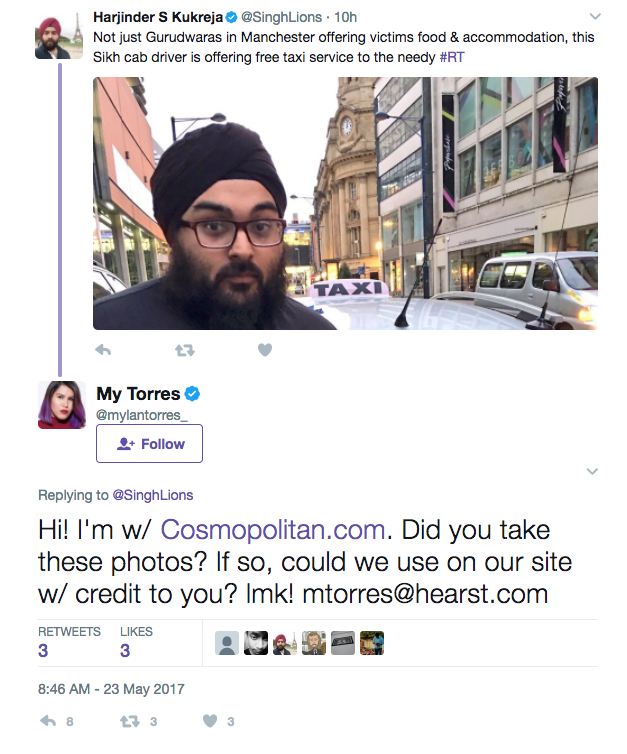 The Sikh Press Agency called out Cosmo for "misinforming MILLIONS."
While Cosmo's tweet conflated Muslims with Sikhs, Cosmo's headline for the accompanying piece is "Muslim and Sikh Taxi Drivers Took Kids Fleeing the Manchester Arena Home for Free." The piece includes anecdotes from individual claiming Muslim taxi drives assisted people in need.
Thank you for supporting MRCTV! As a tax-deductible, charitable organization, we rely on the support of our readers to keep us running! Keep MRCTV going with your gift here!