A female student at Cornell University – which is Ivy League, by the way – stripped down to her unmentionables before presenting her senior thesis in order to fight the patriarchy.
Because nothing says "don't objectify me and to hell with men" quite like giving them a free eyeful of your goodies.
The whole thing started when senior Leticia Chai was practicing her thesis recitation for her Acting in Public: Performance in Everyday Life class while wearing high-cut shorts. Her female professor, Rebekah Maggor, reportedly asked her, "Is that really what you would wear?"
Probably because cut-off shorts aren't generally considered professional outwear for giving one's thesis, any more than a guy would be expected to show up in board shorts and a pair of old flip-flops.
In response, Chai storm out of the room, stripped down to her underwear, waltzed back in and finished her speech. Behold: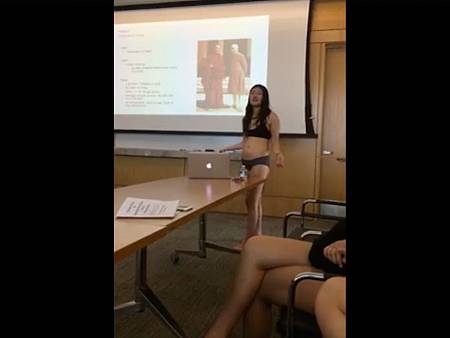 Chai then showed up to her final presentation Saturday wearing the same skimpies, asking others in the audience to take off their clothes in protest. And what's worse? Many of them did.
"Strip, everybody!" said Letitia Chai '18, as she stepped up to give her college scholar senior thesis presentation in a conference room in the Physical Sciences Building. Immediately after, 28 of the 44 people there slowly started to remove their clothes.
The student newspaper added the professor who'd dared suggest Chai wear something a little more professional to give her final thesis had merely told students to carefully consider how they presented themselves.
The class does not have a formalized dress code, but asks students to "dress appropriately for the persona [they] will present," according to the course syllabus obtained by The Sun.

"I do not tell my students what to wear, nor do I define for them what constitutes appropriate dress," Maggor said in a brief email to The Sun. "I ask them to reflect for themselves and make their own decisions."
The Sun continued:
Maggor mentioned to the class that another student in a previous section had been asked to remove a cap from his head, also abiding by the dress policy.

Responding to Maggor's comment, Chai told The Sun that "telling someone to take their cap off is not the same thing as telling a girl her shorts are too short." She also mentioned that Maggor had told her that she would attract "men's attention" away from the content of her presentation.

"I am not responsible for anyone's attention because we are capable of thinking for ourselves and we have agency," Chai said.
Actually, yes. Yes, you are. If you wear shorts cut clear up to your hoo-hah with your butt hanging out in the breeze while giving a professional presentation, you are most definitely responsible.
In addition to the general "ick" factor here, Robbie Soave made another good point in his piece for Reason, explaining:
 "I can't help but wonder: on what planet is this not a violation of Title IX, the federal anti-harassment statute that so many college administrators cite when cracking down on problematic, sexually-charged behavior?"
It's true. If a guy had shown up to class with his man-business in full frontal view of his female peers, the outrage would be heard from Cornell clear to Berkeley, where it would no doubt spark a class-action lawsuit by no fewer than a full screaming hoard of feminist banshees raging about penile oppression.
But since it was a girl who exposed Victoria's Secret, it's A-O.K. Because, the patriarchy.
Then again, the "patriarchy" probably enjoyed every minute of it.