Is this a case of the Hollywood cult protecting its deep, dark secrets, or is this simply a random act of violence that might not have happened at all?
We constantly hear about the #MeToo movement in Hollywood and the quest to eradicate their disturbing practice of sexual misconduct, but news of rampant pedophilia in Hollywood seems to always be swept under the rug as "isolated incidents."
Actor Corey Feldman tweeted Wednesday morning that he had been stabbed overnight while in a car with his personal security present. In a subsequent tweet, Feldman noted how the alleged attack on him gave him "reason 2 believe" that this happened as a result of his wanting to further expose the pedophilia problem in Hollywood.
Here's Feldman's tweets: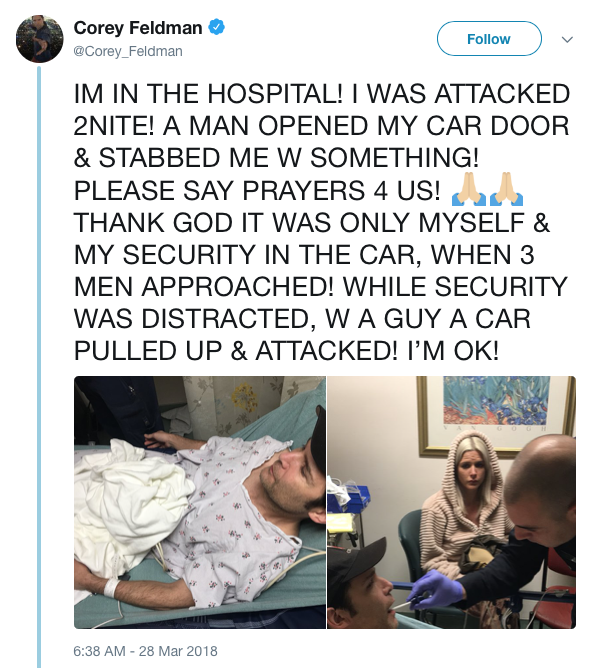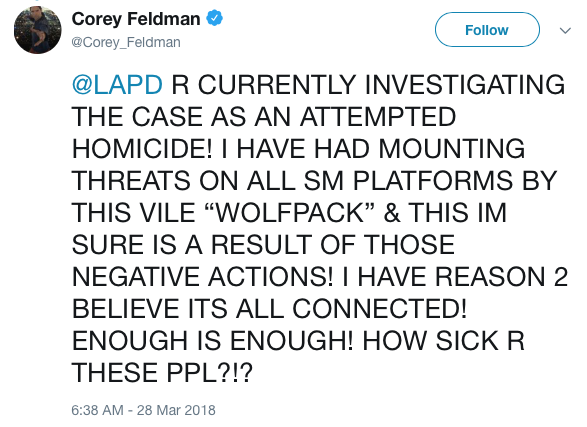 However, the Los Angeles Times reported Wednesday morning that Feldman drove himself to the hospital. Los Angeles Police Officer Drake Madison was also quoted by the Times disputing Feldman's claims.
"He claims he was stabbed," Madison said. "There is no laceration or stabbing to his stomach."
This begs the question, how can the LAPD be investigating Feldman's case as an attempted homicide, when an officer from the same police department is claiming nothing happened to him?
Something smells rotten in the state of Hollywood. The question is whether the smell is coming from the LAPD or Feldman himself.
While it's unknown whether the supposed attack on Feldman was of the targeted variety - or if it even happened at all - the Hollywood cult is very sick indeed. They prance around in their black outfits and social justice buttons preaching to the rest of us like they're some kind of moral authority — when in reality, they're the cause of all their own problems.