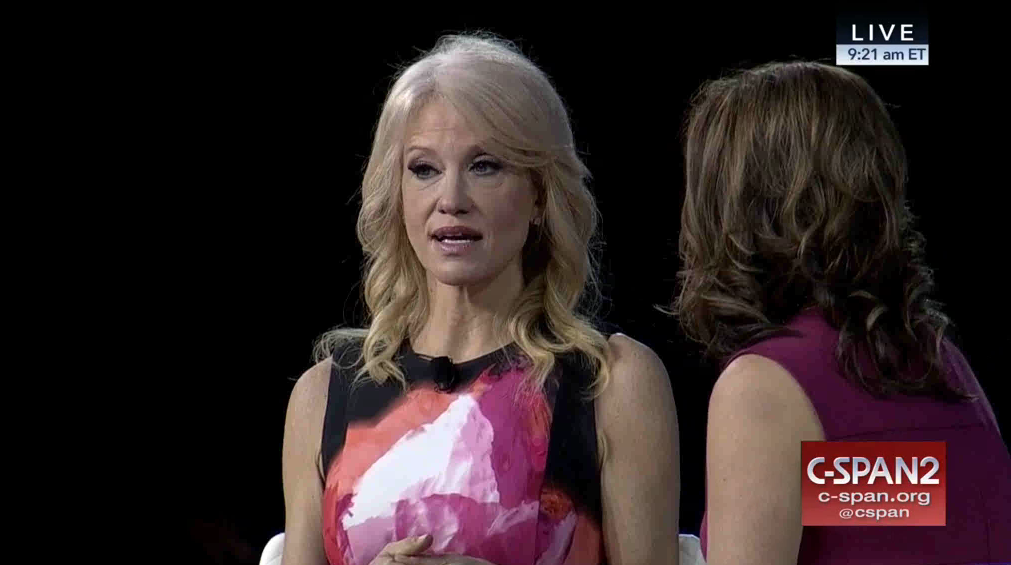 White House counselor Kellyanne Conway said it is "difficult" for her to consider herself a feminist because feminism appears "anti-male" and "pro-abortion."
While speaking at the Conservative Political Action Conference, Conway spoke about what it means to be a woman in politics. Conway was then asked about the idea of "conservative feminism."
Conway said she doesn't believe in calling herself a feminist because she does not consider herself anti-male or pro-abortion:
Why, I believe this generation, particularly the younger people, don't really like labels.  And we're not necessarily joiners or liking to label ourselves, and that's great in its own right. So I don't know about calling yourself a feminist. And also, for me, it's difficult to call myself a feminist in the classic sense because it seems to be very ant-male and it certainly is very pro-abortion in this context. And I'm neither anti-male or pro-abortion.
Instead of advocating for feminism, Conway spoke about the importance of evaluation your own personal choices:
So there's an individual feminism if you will, where you make your own individual choices. Mercedes, I look at myself as a product of my choices, not a victim of my circumstances, and that's really, to me, what conservative 'feminism,' if you will, is all about.
Conway gave the example of her mother, who didn't "complain" or "rely upon government" to raise her family and be successful:
My mother didn't feel sorry for herself. She was left with no child support, no alimony, at a very young age, with a child to raise, a high school education, and she just figured it out. She didn't complain, she didn't rely upon government, she relied upon her own skill-set, her own confidence, her own drive and moxie, and her own duty to me and her, and she relied upon her family and her faith. And I believe those are timeless lessons and timeless opportunities for all women in similar circumstances and situations.
Thank you for supporting MRCTV! As a tax-deductible, charitable organization, we rely on the support of our readers to keep us running! Keep MRCTV going with your gift here!