Sen. Ted Cruz (R-Texas) found himself in hot water with conservative Twitter Wednesday evening when a clip of his comments in the Senate on the "January 6 Attack on the U.S. Capitol" began making the rounds.
In his comments, Cruz said the events that occurred on January 6, 2021 was a "violent terrorist attack on the Capitol."
Here's the clip in question:
Video of @tedcruz today that the Jan 6th mass trespassing event violently cracked down by police was a "violent terrorist attack on the capitol."

The game is over, folks.

Go home and get a life.

You are wasting your time with the GOP. pic.twitter.com/0iU4p16ItE

— Yossi Gestetner (@YossiGestetner) January 5, 2022
Twitter users, many of which have supported Cruz over the years, felt dumbfounded by the senator's "terrorist attack" comparison: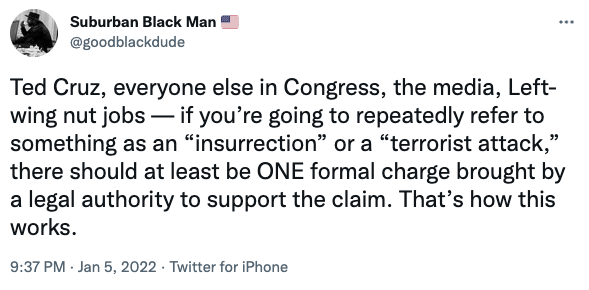 Vice President Kamala Harris (D) also equated the events of January 6, 2021 to terrorist attacks as well, comparing the event to the bombing of Pearl Harbor and the terrorist attacks that took place on September 11, 2001 at the World Trade Center in Lower Manhattan, New York.
"Certain dates echo throughout history, including dates that instantly remind all who have lived through them — where they were and what they were doing when our democracy came under assault," said during remarks at the U.S. Capitol on Thursday. "Dates that occupy not only a place on our calendars, but a place in our collective memory. December 7th, 1941. September 11th, 2001. And January 6th, 2021."