"All those a******* make are unwatchable movies from unreadable books." 
Late Thursday night, Conservative street artist Sabo placed a multitude of large posters, some bearing this quote from Quentin Tarantino's True Romance throughout Hollywood, Brentwood, and Westwood. Sabo is famous for his work that attacks left-wing politics, and was an active Ted Cruz supporter during the 2016 election. 
According to The Hollywood Reporter, Sabo plastered posters all over the swanky celeb-filled neighborhoods of L.A., and even created fake Redbox replicas adorned with faux-advertisements such as "Yeah! We wouldn't have paid full price to watch any Oscar nominated movie either!"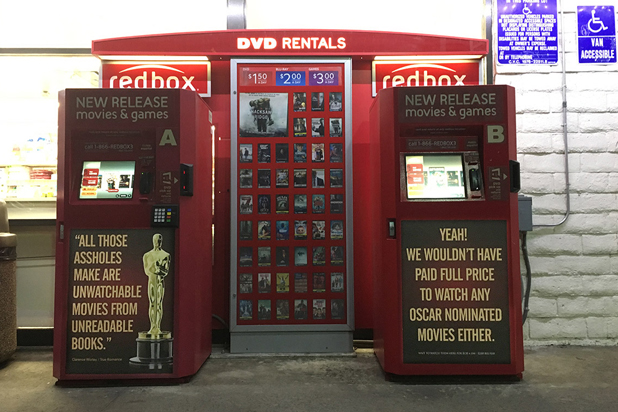 Sabo believes the Redbox piece to be his "representation of the discounting of Hollywood." Sabo also says he's unimpressed with modern movie-making, and is enraged by the outspoken liberal bias found in Hollywood.
"I'm pissed off at Hollywood and it's outspoken liberal actors enough to not want to spend what a theater asks, and that is my way of keeping as much of my money from going into Hollywood's pockets," Sabo said.
Sabo garnered his initial following for his 2014 "abortion Barbie" piece, a fake advertisement showing Texas politician Wendy Davis as an "abortion Barbie" toy. In 2016, Soba iconically portrayed Ted Cruz as a mean-looking, tattooed cigarette-smoker, who was "blacklisted" by the establishment.
Sabo's fake posters usually stay up a mere 24 hours before being removed.
Let's hope they stay up in time for Sunday's Oscar show.
MRCTV Reader,
The liberal media are terrified of the truth, especially when it leads to uncomfortable questions about their own leftist worldview.
MRCTV is the multimedia division of MRC featuring original content and aggregated videos of the news, people, and events conservatives care about.
MRCTV relies on the support of our loyal readers (and video viewers) to keep providing the news and commentary that matter to the American people, not just stories that prop up the liberal agenda.
Make a donation today. Just $15 a month would make a tremendous impact and enable us to keeping shining the light where the liberal media are afraid to tread.
— The MRCTV Team
DONATE
Connect
Sign up for our MRCTV newsletter to receive the latest news.
Sponsored Links