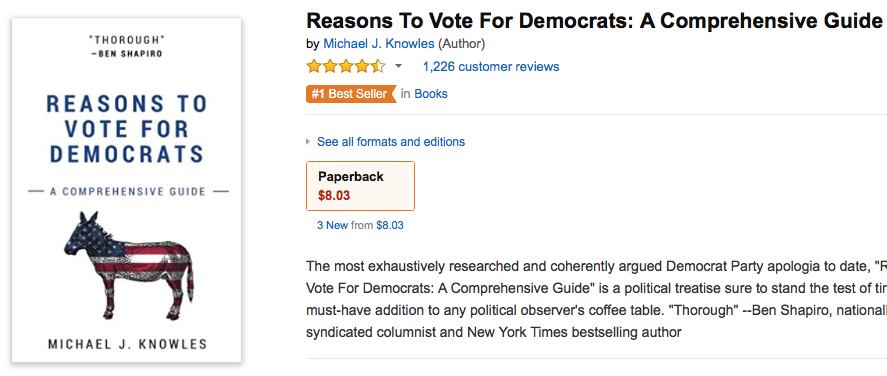 After only a few weeks of being on the shelves, "Reasons To Vote For Democrats: A Comprehensive Guide" has officially landed itself the No. 1 spot on Amazon's best-seller list.
This is a screenshot of Amazon's Current Best-Sellers: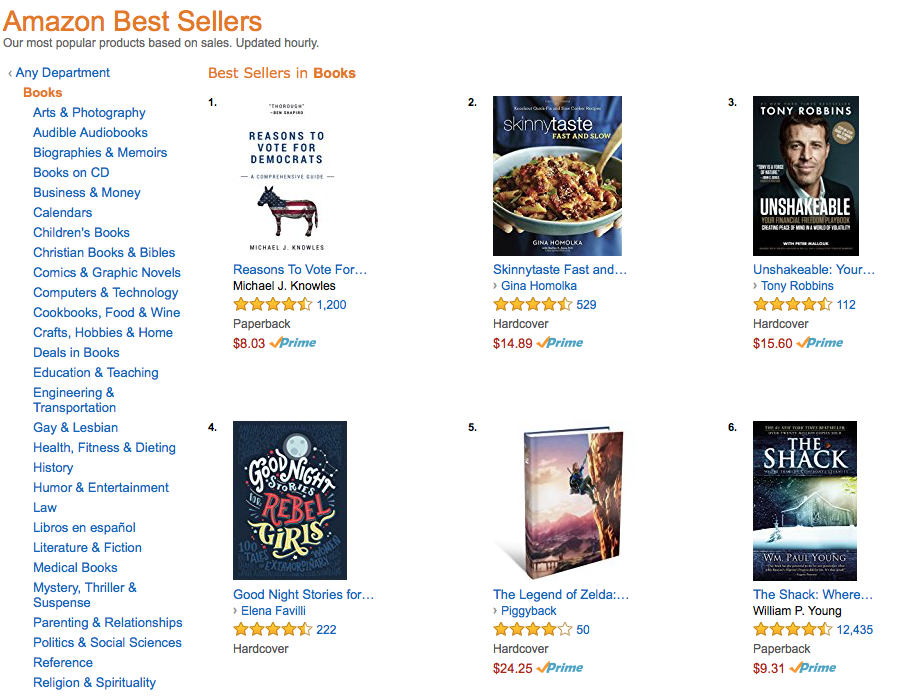 Here is the synopsis for the book:
The most exhaustively researched and coherently argued Democrat Party apologia to date, "Reasons To Vote For Democrats: A Comprehensive Guide" is a political treatise sure to stand the test of time. A must-have addition to any political observer's coffee table.
So what is drawing people to this new commentary about the Left? Maybe the fact that literally every page in the book is blank.
From start to finish, people cannot put down this book. Well, until they're done with it in about 15-20 seconds.
The book has been on the market for a little over a month, and in no time skyrocketed up the Amazon best-seller chart. There are already 1,212 customer reviews of the book, as of this writing.
Here are just a few comments from very satisfied customers:
"If Democrats copied and pasted the contents of this book into their national platform they could become unstoppable."

"Exhaustive, yet concise, treatment of the reasons to vote for Democrats. I thoroughly enjoyed this book and recommend it as a teaching tool for any potential voter. This book is truly unparalleled."

"Wow! Just wow! I can't wait for the movie to come out!"
All in all, this book is a must read for any fan of gritty, bare-bones political commentary.
The author, Michael Knowles, who's also the Managing Editor for the Daily Wire, said that it "took a very long time to research this book. In his appearance on "Fox & Friends" Thursday, Knowles summed up his reasons for spending countless hours getting this book together.
"I've been observing the Democratic Party for at least 10 years now," Knowles said. "And when I observed their record and reasons to vote for them – on reasons of economics or foreign policy or homeland security or civil rights and so on -- I realized it was probably best to just leave all the pages blank."
For the interview with Knowles, watch below: