Fired FBI Director James Comey in an interview with ABC News on Sunday said that impeaching President Trump "would let the American people off the hook" for their decision to elect him in the first place.
He added that Americans are "duty bound" to vote if they want Trump out of the Oval Office.
"Removing Donald Trump from office would let the American people off the hook, and have something happen indirectly that I believe they're duty bound to do directly," said Comey in his first interview as part of a media blitz to promote his new book. "People in this country need to stand up and go to the voting booth."
He said that he personally feels Trump is "morally unfit" to be president and talked at length about a variety of dicey interactions he said he had with Trump, alleging that Trump requested him to pledge his loyalty following the 2016 election and asked him if he could "let it go" when it came to the FBI's investigation into then-National Security Adviser Michael Flynn, among other claims.
Comey also said that "it's possible" that the Russians have some sort of dirt or blackmail on Trump, though he wouldn't say what exactly, but he did make the suggestion that Trump and First Lady Melania's marriage was not solid after Trump had asked him to investigate salacious allegations about his actions with Russian prostitutes that were included in the infamous "dossier." 
Trump tweeted on Saturday that he "never asked Comey for Personal Loyalty."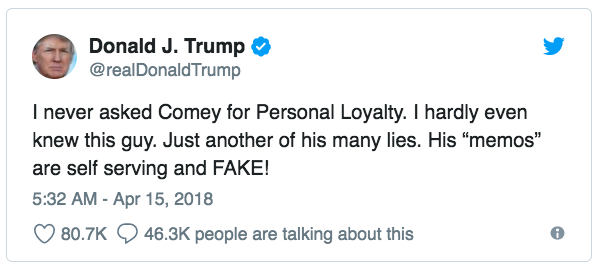 He also called Comey a "proven LEAKER & LIAR" and an "untruthful slime ball" for his handling of the FBI's investigation into Hillary Clinton's private email server.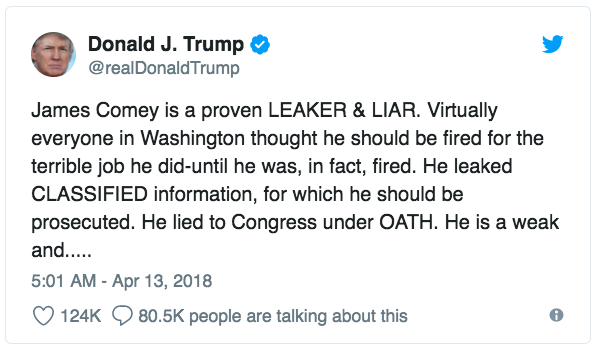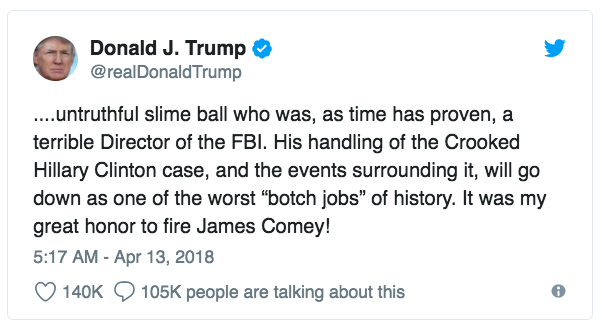 Check out a clip from the interview below.
(Cover Photo: Screenshot / ABC News)