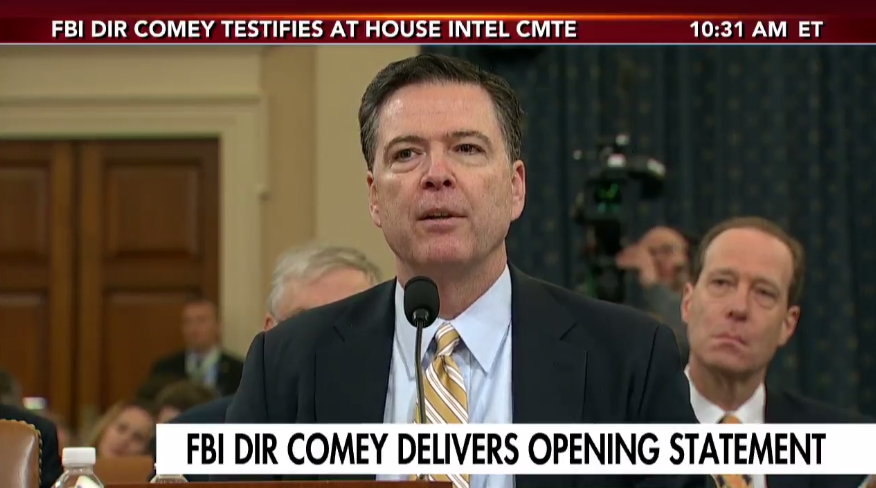 (Image via Screenshot)
FBI Director James Comey testified before the House Intelligence Committee on Monday as a part of Congress's investigation of Russia's involvement in the 2016 election. 
When asked to address President's Trump's controversial claim that the Obama administration had ordered electronic surveillance of Trump Tower ahead of the election, Comey replied, "I have no information that supports these tweets."
"With respect to the Presidents tweets ... I have no information that supports these tweets," he said. "And we have looked carefully inside the FBI. The Department of Justice has asked me to share with you that the answer is the same for DOJ and all its components. The Department has no information that supports those tweets."
Comey described the process of ordering electronic surveillance as "rigorous" and explained that "no President" could unilaterally order a wiretap of anyone.
"No individual in the United States can direct electronic surveillance of anyone," he said. "It has to go through an application process, ask a judge, and the judge can then make the order."
"So President Obama could not unilaterally order a wiretap anyone?" committee ranking member Rep. Adam Schiff (D-Calif.) asked.
"No President could," Comey replied.
The President via his White House spokesman indicated that he does not believe President Obama "tapped his phone personally," but that "wiretapping" could mean a lot of different things, including electronic surveillance of him and his associates. 
Thank you for supporting MRCTV! As a tax-deductible, charitable organization, we rely on the support of our readers to keep us running! Keep MRCTV going with your gift here!