"Transgender woman" activist Jessica Yaniv is a man. From the very first time we heard from this dude, he's been trying to force people to wax, groom and generally grope his male genitalia — without much success, I might add.
As MRCTV's Brittany Hughes reported on Monday, Yaniv was back in the news for being "shocked.. and confused… and hurt" because a gynecologist office told Yaniv that they don't serve transgender patients.
I wonder why? Could it be because Yaniv's twig and berries don't meet the requirement of being examined by a gynecologist? I don't know whether Yaniv understands what gynecologists do or whether she/he is just trying to be a massive troll.
Well, comedian Ricky Gervais continually just seems to get it when it comes to this stuff. You might not agree with everything he has to say politically, but common sense isn't one of his weaker traits.
Gervais had no problem taking to Twitter to call out Yaniv for her tweet that looks like it's been deleted, as evidenced by both the empty tweet link and the tweet being unavailable in Gervais' retweet.
Here's Gervais' tweet (WARNING: Some strong language):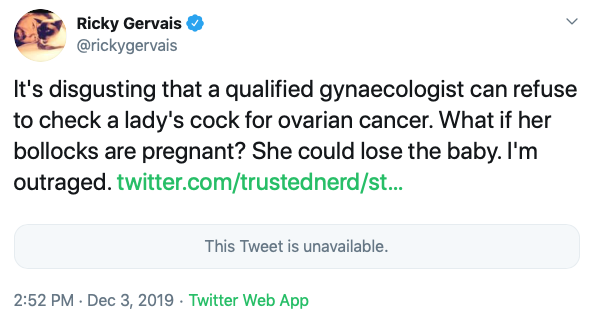 That was a pretty perfect response, and also basically reiterated my new favorite phrase — I'm offended that you're offended!
Judging by how Yaniv has seemingly deleted her tweet, even she/he must know how stupid she/he sounded.
H/T: Louder with Crowder