CNN's egomaniacal White House Correspondent Jim Acosta seems to be operating on a whole new level of deception. The crazy part is that even he seems to believe his own delusions.
Acosta sent out a tweet after President Donald Trump's immigration reform speech in the White House Rose Garden on Thursday. Acosta intimated that Trump portrays all asylum seekers as guilty of putting forth "frivolous claims."
One problem though, Jimmy. You completely took the president out of context in order to push your intentionally divisive agenda.
Here's Acosta's initial tweet: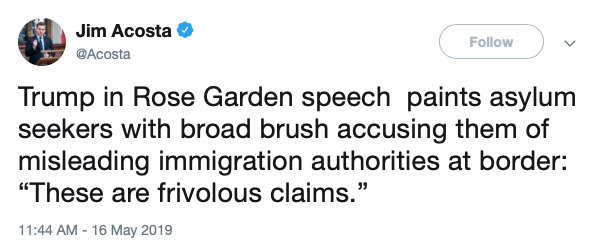 Okay, we hear you. Now let's look at what Trump actually said:
For those in the cheap seats, here's a transcript of what the president actually said, according to the official White House transcript of his speech:
We must also restore the integrity of our broken asylum system.  Our nation has a proud history of affording protection to those fleeing government persecutions.  Unfortunately, legitimate asylum seekers are being displaced by those lodging frivolous claims — these are frivolous claims — to gain admission into our country.

Asylum abuse also strains our public school systems, our hospitals, and local shelters, using funds that we should, and that have to, go to elderly veterans, at-risk youth, Americans in poverty, and those in genuine need of protection.  We're using the funds that should be going to them.  And that shouldn't happen.  And it's not going to happen in a very short period of time.  Have to get this approved.

My plan expedites relief for legitimate asylum seekers by screening out the meritless claims.  If you have a proper claim, you will quickly be admitted; if you don't, you will promptly be returned home.
You would think that would've been clear enough for even Acosta to understand, but the opinion reporter — he's not a journalist — doubled down on his claim.
Just look at his response to a Twitter account that gave Acosta the actual transcript of what Trump said: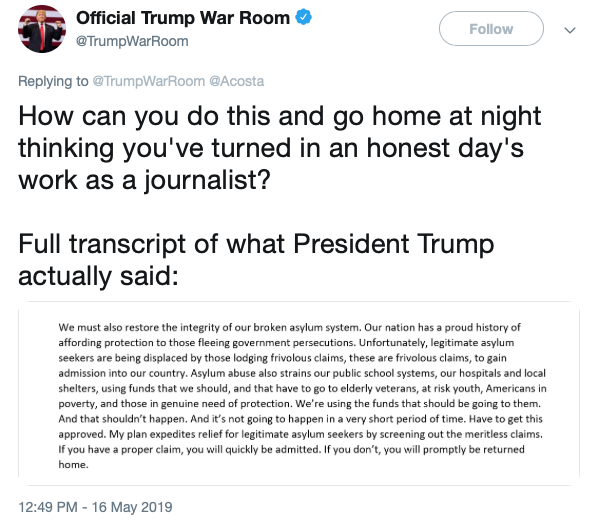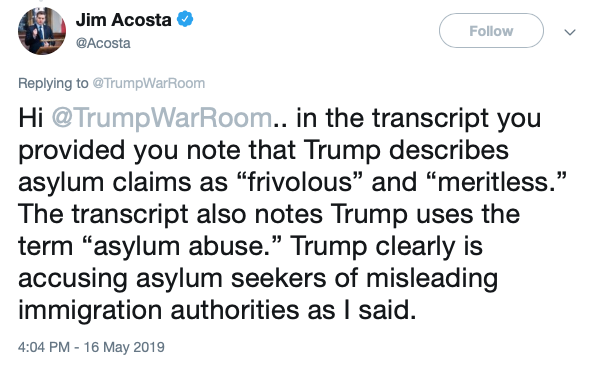 It's got to be an amazing experience to believe your own BS to that degree. Try again, Jimmy.