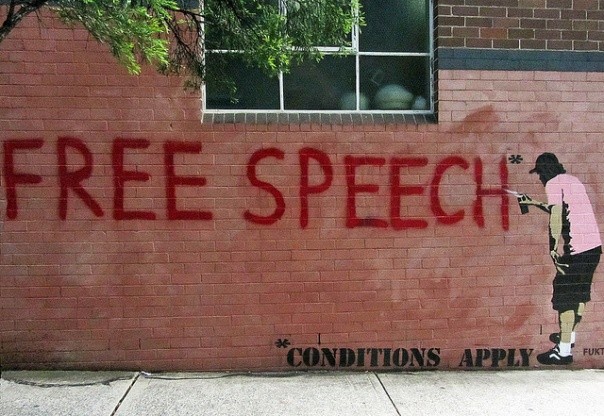 (Photo: Newtown Graffiti)
Hey, college students! Wanna know an easy way to get banned from your school? Act out an improvisational scene in class when your professor wants you to! Not only can you be tossed, but you can also be required to submit a touchy-feely "What I Learned from This Incident" essay to show contrition for using a "bad word."
Sign up NOW!
Indeed, if you're into being punished for doing exactly what your instructor wants, just head to Moraine Valley Community College, near the increasingly inglorious Chicago. It was there that, according to student Joshua Zale, he was asked by his professor in his "improvisational sketch" class to play the part of a pimp.
But when Zale did, he says he was accused by the instructor, Craig Rosen, of using an "unacceptable word." (Our presentation will now pause while you digest.) 
Zale is suing the school in response to Rosen's claim, in response to accusations that he was "disruptive" during a subsequent meeting with staff, and to the fact that the college punished him for not writing an essay they required as a form of his punishment for uttering said "bad word."
The actual word is never mentioned in his suit, nor has it been mentioned by the uncannily quiet officials at the school. Let's just think of it as "the secret word."
Writing for the Chicago Tribune, Steve Schmadeke notes:
On April 20, Zale met with the instructor to find out why he had been chastised for using "a word which was precisely within the assignment he had been given," according to the lawsuit.
But then, things got ugly…
Zale alleges that during the discussion, an assistant dean also accused him of "mistreating her as a woman" under Title IX, according to the lawsuit, which was filed Monday. Title IX is part of a 1972 law prohibiting discrimination on the basis of sex in education programs or activities receiving federal financial assistance.
The college upped the ante, as one might expect…
Six days later, he received an email from the dean of students alleging he had violated the student code of conduct during the April 20 meeting by causing a disruption and for "physical/verbal abuse or harassment," according to a copy of the email included in the lawsuit.
And then Zale refused to attend a disciplinary hearing, because, as he says in his suit, he would not have been allowed to face his accusers. So the college sent him a letter telling him he had to write the sweet, special snowflake essay "What I Learned from This Incident."
Another email on May 19 from the dean warned him that a registration hold had been placed on Zale because he had failed to write the essay. Zale could be subject to further sanctions, the letter says, if he didn't complete the assignment…. Zale refused to write the essay "because that sanction was imposed in violation of his right to procedural due process of law," his lawsuit says.
Which begs some questions.
First, we must note that many of these points are allegations made by Zale, and that the college will not comment on "pending legislation." However, the fundamental bases of the issue remain: A student was asked to play a pimp in an acting class. He played the role as he saw it should be played. He spoke. He did not assault anyone. He used a "word."
And from there, everything devolved.
Perhaps -- ZOUNDS! -- the word was offensive to some people. But according to Liz Wolfe, of Reason, the college created a punishment/hearing procedure that was biased against the student from the start:
To make matters worse, the proposed hearing had no real semblance of impartiality, because it would have been conducted by one of the administrators who initially charged Zale with misconduct. No wonder Zale chose to opt out.
Let all of these college administrators open a private college, or, better yet, theatre, and offer their skits to freely paying audiences. Then we will see what audiences find "offensive" on any given night.
Otherwise, the tax-paid college officials seem to have nothing to complain about.