Music festivals Coachella and Stagecoach have been postponed this year over concerns surrounding the coronavirus outbreak, the festivals' concert promoter announced on Tuesday, but would-be attendees are up in arms as if both events have been outright cancelled.
Actually, many are spreading misinformation that the events have been cancelled, period.
Goldenvoice made the announcement in a statement released on Tuesday that, "At the direction of the county of Riverside [in California] and local health authorities, we must sadly confirm the rescheduling of Coachella and Stagecoach due to COVID-19 concerns."
"While this decision comes at a time of universal uncertainty, we take the safety and health of our guests, staff and community very seriously," the statement reads. "We urge everyone to follow the guidelines and protocols put forth by public health officials."
Key word: "Rescheduling."
There was speculation last week that the events would be cancelled after SXSW in Austin and Ultra Music Festival in Miami were cancelled, but the news had not been yet confirmed.
California last week declared a state of emergency over the outbreak. According to Yahoo Music, "As of Tuesday, California had 175 confirmed COVID-19 cases, six of which are in Riverside County, four of those in the Coachella Valley. The Stagecoach and Coachella festivals are held annually at the Empire Polo Club in Indio, Calif."
The Coachella Valley Music and Arts Festival was set to take place April 10-12 and April 17-19 and Stagecoach April 26-29. Both events have simply been pushed back to October.
Millennials, however, are in shock. (Warning: Explicit language.)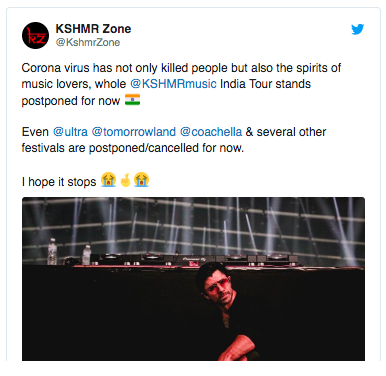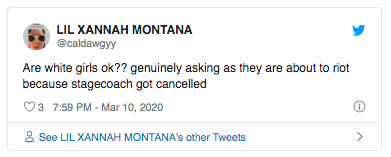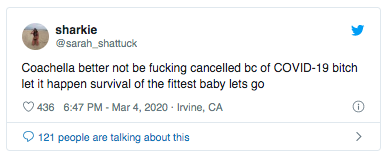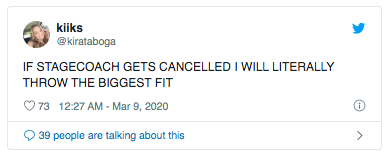 Again, everyone, it was postponed. Not cancelled. It's going to be, OK.
Others are outraged how much it will hurt artists and local businesses: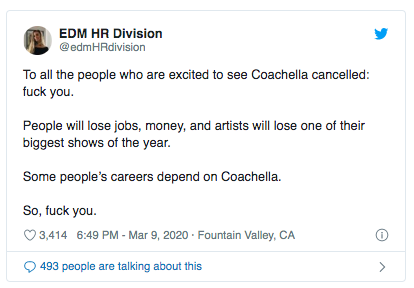 Many are also celebrating the postponement, however: