Not everyone needs to think alike. People in the same conversation can have differing opinions and then allow the people watching to make up their own minds. Isn't that amazing?! Leave it to a CNN lemming to not grasp the aforementioned concept. 
CNN Oliver Darcy sent out a tweet late Monday night/very early Tuesday morning in which he stated his bewilderment at separate Fox News hosts and guests who hold differing opinions when it came to President Donald Trump's use of hydroxychloroquine as a treatment for COVID-19. 
I just can't with these people anymore. Just look:
Fox can't get its story straight: While one host zings Trump for taking hydorxychloroquine, another host encourages its use. While one medical contributor calls it "highly irresponsible," another says it's "reasonable." What are viewers to believe? https://t.co/6tWjJ1llnR

— Oliver Darcy (@oliverdarcy) May 19, 2020
Hey, Oliver! Buddy! Your job isn't to make people believe - although CNN certainly does its best at doing that. No, your job is to inform. The people are supposed to have minds of their own and make decisions for themselves and their families. Novel idea, I know!
People who responded on Twitter weren't as kind as I have been here: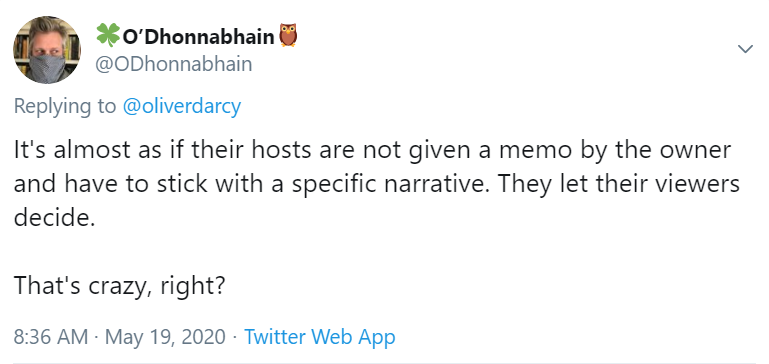 Darcy has come a long way since working as an editor for The Blaze, and not in a good way.