CNN tweeted out their support for the actions of reporter Jim Acosta at the White House Wednesday.
"This president's ongoing attacks on the press have gone too far. They are not only dangerous, they are disturbingly un-American," the network said.
"While President Trump has made it clear he does not respect a free press, he has a sworn obligation to protect it. A free press is vital to democracy, and we stand behind Jim Acosta and his fellow journalists everywhere."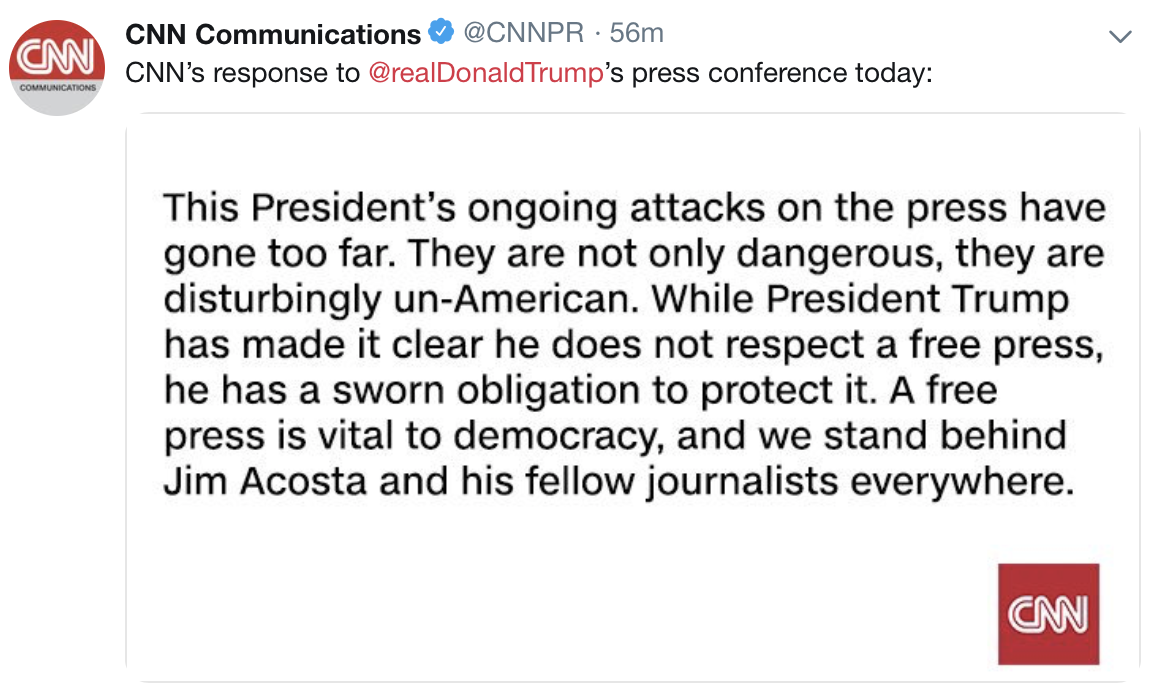 At a press conference Wednesday, President Trump had told Acosta "that's enough" after answering a series of questions. Acosta continued lobbing questions, even after the president began moving on to other reporters. Acosta then refused to hand over the microphone for the next reporter.
"I tell you what, CNN should be ashamed of itself having you working for them. You are a rude, terrible person, you shouldn't be working at CNN," Trump told Acosta.
Apparently CNN is not ashamed, but rather proud.
You can watch the exchange and judge for yourself below.
MRCTV Reader,
The liberal media are terrified of the truth, especially when it leads to uncomfortable questions about their own leftist worldview.
MRCTV is the multimedia division of MRC featuring original content and aggregated videos of the news, people, and events conservatives care about.
MRCTV relies on the support of our loyal readers (and video viewers) to keep providing the news and commentary that matter to the American people, not just stories that prop up the liberal agenda.
Make a donation today. Just $15 a month would make a tremendous impact and enable us to keeping shining the light where the liberal media are afraid to tread.
— The MRCTV Team
DONATE
Connect
Sign up for our MRCTV newsletter to receive the latest news.
Sponsored Links