Talk about petty and hypocritical.
A CNN spokesperson announced that the organization won't be attending the White House Christmas party for the media this year, because President Trump is a big meanie.
Here's what CNN's spokesperson had to say:
CNN will not be attending this year's White House Christmas party. In light of the President's continued attacks on freedom of the press and CNN, we do not feel it is appropriate to celebrate with him as his invited guests. We will send a White House reporting team to the event and report on it if news warrants.
So, CNN is boycotting the event by still showing up and covering it?
To be fair, CNN's latest temper-tantrum is far from surprising. Trump calls CNN "fake news" — justifiably — on a daily basis and has put a CNN reporter or two in their place on occasion.
White Press Secretary Sarah Huckabee Sanders responded to a Politico article on CNN's boycott of the party with a tweet: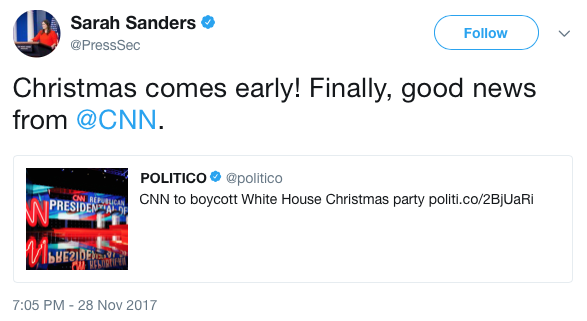 The only "freedom of the press" CNN cares about is their own freedom to bash anything that isn't Left-of-Center. It's laughable to think that CNN cares about the freedom of organizations that don't subscribe to their particular brand of political rhetoric.
Looks like it will be a coal-in-the-stocking kind of Christmas for CNN this year.
Sponsored Links