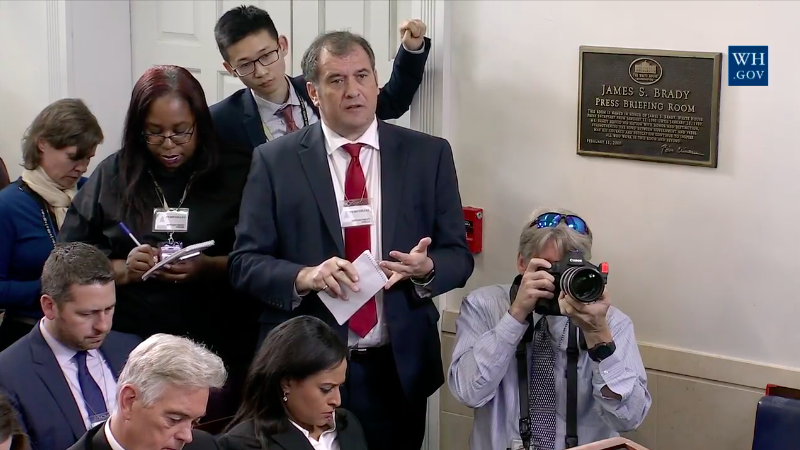 Image via Screenshot
A reporter during a tense White House press briefing on Monday asked White House press secretary Sarah Huckabee Sanders if she has ever been sexually harassed.
CNN analyst and Playboy correspondent Brian Karem, also asked whether Sanders has empathy for women who come forward with such claims.
"As a woman standing up there talking to us, I know your job is to relate what the president says," said Karem. "Have you ever been sexually harassed and do you understand — and I'm not saying by the president — I'm saying ever. And secondly, do you have any empathy for those who come forward? Because it's very difficult," he added.
"I absolutely would say that I have an empathy for any individual who has been sexually harassed, and that certainly would be the policy of the White House," Sanders replied. "I'm not here to speak about my personal experience on that front, but I'm here to relay information on behalf of the President."
Throughout the briefing, reporters repeatedly asked Sanders to address the sexual misconduct allegations against President Trump. 
Sanders said that Trump "thinks it's a good thing that women are coming forward" in general but denies the allegations against him.
When asked to address the President's support for Alabama Senate candidate Roy Moore who faces several sexual misconduct allegations himself, Sanders said that Trump "found the allegations troubling" and that if they are true, he believes Moore should step aside.
"Ultimately the people of Alabama will make a decision in that race," said Sanders.  
The press briefing came after four Democratic senators called on Trump to resign.
Three of his accusers held a press conference on Monday calling on Congress to conduct an investigation into Trump's alleged behavior.  
Thank you for supporting MRTV! As a tax-deductible, charitable organization, we rely on the support of our readers to keep us running! Keep MRCTV going with your gift here!