When will the propaganda media ever learn? Last week, the New York Times (NYT) reported about "intelligence officials" warning lawmakers that "Russia is Meddling to Re-elect Trump."
Fast forward to Sunday, and CNN is now reporting that the country's "top election security official appears to have overstated" the assessment of information that lawmakers pressured them to make. That report comes just two days after a Jim Acosta-led CNN article stated that "Russia is looking to help Trump win in 2020."
According to CNN:
The official, Shelby Pierson, told lawmakers on the House Intelligence Committee that Russia is interfering in the 2020 election with the goal of helping President Donald Trump get reelected.

The US intelligence community has assessed that Russia is interfering in the 2020 election and has separately assessed that Russia views Trump as a leader they can work with. But the US does not have evidence that Russia's interference this cycle is aimed at reelecting Trump, the officials said[…]

Pierson's characterization of Russian interference led to pointed questions from lawmakers, which officials said caused Pierson to overstep and assert that Russia has a preference for Trump to be reelected.
I love how CNN and the NYT generically say "lawmakers," as if we don't know who they're talking about putting pressure on an intelligence official to give them the result they want.
I'll just leave this here from the other day: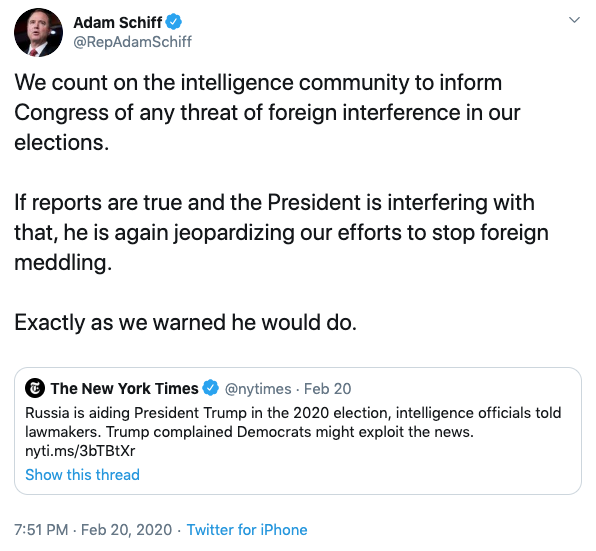 The witch hunt is never going to end, folks.