Remember when Darfur was the topic du jour for the hashtag activists, before hashtag activism existed? Liberal co-eds and Hollywood stars alike wore their "Save Darfur' t-shirts and attended "Rock for Darfur" concerts (because nothing says "I care about genocide" like a rock concert.)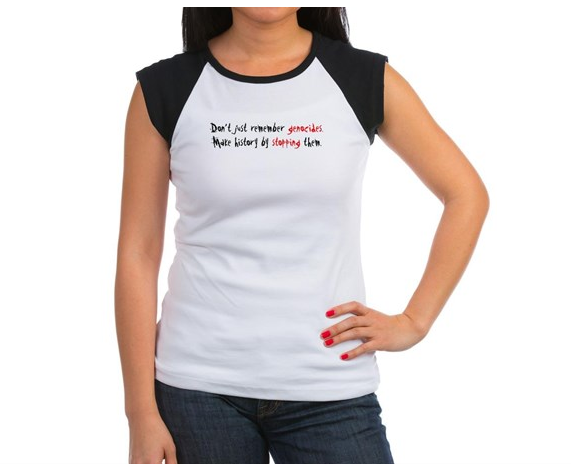 The shirt says 'Don't just remember genocides. Make history by stopping them.' Presumably this shirt is not meant to be ironic.
Well, George Clooney, the Sudan victims' loudest advocate, is no longer a handsome bachelor (emphasis on the bachelor part,) and the fickle American media spotlight has moved on.
It turns out that Sudan is continuing on with its genocide, too.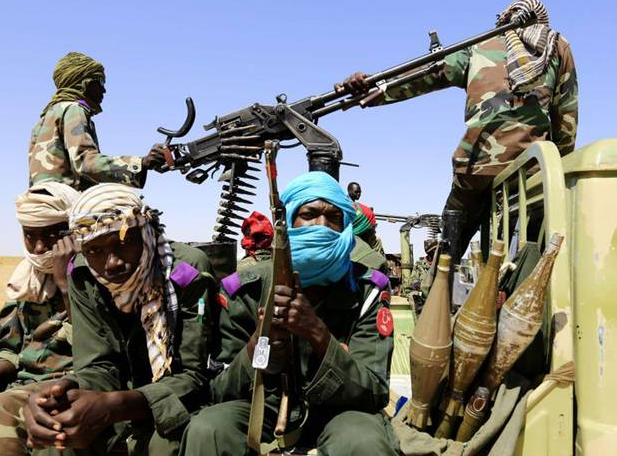 At least 221 women and children near Darfur were raped during a 3-day period in October, according to a Human Rights Watch report.
In a region torn by twelve years of violence and war, the recent bloodshed stands out as the highest level of violence reported since the genocide began. The United Nations' modest estimates puts the number of internally displaced people at 2 million.
Soldiers told a 40-year-old mother in front of her three daughters:
"We are going to show you true hell."
"Then they started beating us," she said, The Human Rights Watch reported. "They raped my three daughters and me."
"Some of them were holding the girl down while another one was raping her," she continued. "They did it one by one." 
"I haven't seen reports on this level [of violence] since the height of the genocide," said Daniel Sullivan, director of policy for United to End Genocide, The Daily Beast reported.
Another mother was dragged from her home and beaten severely. When she returned, she found that soldiers had raped three of her minor daughters (all aged under 15. ) They "beat the young children and they raped my older daughters.… They put clothes in [my daughters'] mouths so that you could not hear the screaming," she said, according to The Human Rights Watch report.
After the attacks, residents were brutally tortured and detained if they dared to speak about what had happened.
One man was warned: "If I talked about Tabit again that I was going to be finished… They kicked me. Tied me and hanged me up. They beat me with whips and electric wires."
Another resident reported to Human Rights Watch, that they're "living in an open prison."
When allegations of the mass rape leaked out, Sudan first denied the reports, and then denied peacekeepers the ability to investigate. There is a dearth of international oversight, as even Doctors Without Borders has pulled out of the region after its hospital was bombed twice by government forces. Human Rights Watch was only able to put together its report through over-the-phone reports from intrepid intermediaries.
From The Daily Beast:
"Adding to this state-sanctioned bloodshed are claims that the United Nations peacekeeping mission may have been downplaying the government's involvement in atrocities in its reports. In April, the former mission spokeswoman leaked internal reports showing that the U.N. mission officials were passive observers of violence and, damningly, had been reluctant to point any fingers at the Sudanese government for crimes including bombing campaigns against civilians and attacks on peacekeepers….

In December, the United Nations met with the Sudanese government to discuss Bashir's demand that the world body withdraw the peacekeeping force entirely."
Which begs the question: did all that Hollywood activism, and Clooney's very public intervention, make a difference in Darfur?

"Clooney might be doing something fantastic – tracking the movements of Sudanese troops and militias – but for me as a person living in Darfur, in touch with what is happening on daily basis, I don't see that it has halted, or even reduced, the genocide," an aid worker in north Darfur told The Guardian.
"The killing, displacement, sexual assaults and rape never stopped."
"The global campaign on genocide was hardly felt or even heard of in Darfur, or for that matter in the more affluent, better-connected capital Khartoum. Clooney is better known for his marriage to an Arab, the British-Lebanese lawyer Amal Alamuddin, than for his activism," said Abdel-Rahman El-Mahd, president of the Sudanese Development Initiative. "Unfortunately he visited Darfur before the wedding. He was just another visiting 'khawaga' (local term for a westerner or white person) who did not have much to offer the suffering people."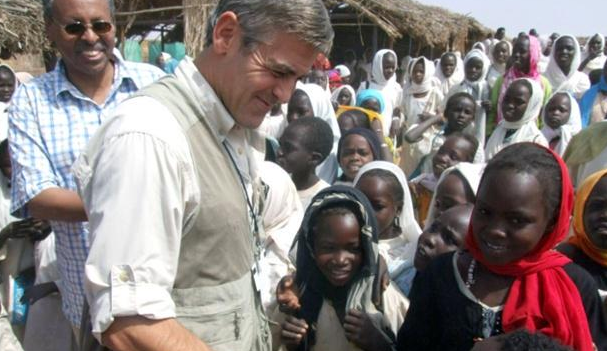 #SaveOurGirls... oh wait, wrong Africa atrocity.
"The deliberate attack on Tabit and the mass rape of the town's women and girls is a new low in the catalog of atrocities in Darfur," said Daniel Bekele, Africa director at Human Rights Watch. "Sudan has done everything possible to cover up the horrific crimes committed by its soldiers in Tabit…"
Clooney isn't the only one whose silence is deafening. As Mia Farrow and Daniel Goldhagen pointed out in a Sept. op-ed for The Wall Street Journal,
"There was a time when Mr. Obama expressed outrage over the mass murder and aerial bombardment of civilians in the Darfur region of western Sudan. In 2007, the then-presidential hopeful said the Western world's silence regarding the slaughter in Sudan would leave 'a stain on our souls.'

Now President Obama has joined that silence. These days, to learn about what is transpiring in Sudan, one must turn to Radio Dabanga, broadcasting from Denmark."
Maybe it is understandable that the American media didn't cover these atrocities in October – after all, 'Genocide Still Occurring' isn't as sexy a headline as every detail of the Clooney-Alamuddin wedding!
And don't forget, they also had "The Most Interesting Person of the Year" to crown.