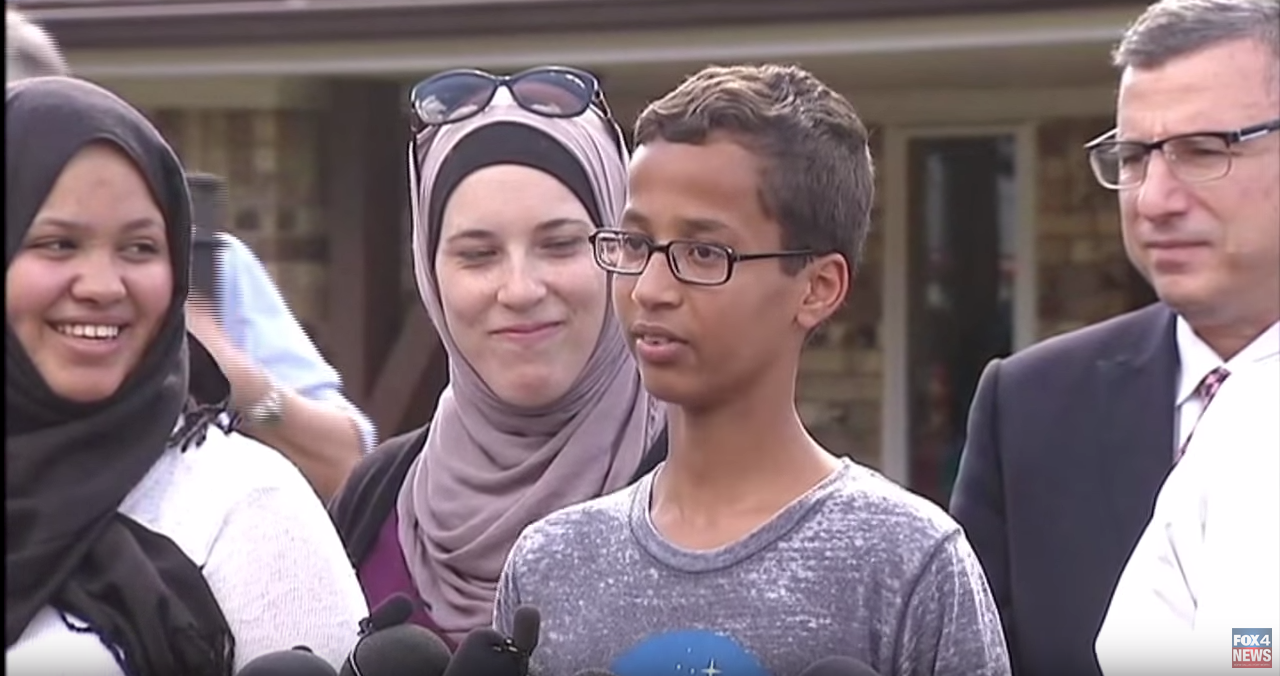 The family of Ahmed Mohamed, known as "Clock Boy," is demanding $15 million in damages after their son was arrested for bringing his "homemade" clock to school.
WFAA reports Mohamed's attorneys have issued letters to the city of Irving and the Irving School District.
The letter from the family's lawyers begins by noting, "For personal security reasons, Ahmed and family are in Doha, Qatar," but "when they feel safe again, all of them want more than anything to come home, to Irving, Texas."
The letter to the city of Irving claims the city "scramble[d] to save face" and "kneecap a kid in the media."
"Knowing they could not really defend what they had done, City of Irving and Irving ISD officials chose another course: trash Ahmed," the letter alleges.
The letter to the city also alleges Ahmed's Fourth Amendment rights were violated.
The letter to the school claims, "Irving ISD and its employees knowingly disregarded the district's written policies and procedures by detaining, interrogating, and attempting to coerce a confession from Ahmed."
Both of the letters allege that "Ahmed clearly was singled out because of his race, national origin, and religion."
According to the letters:
Ahmed also has suffered severe psychological trauma during his involuntarily separation from his grandmother and extended family. This trauma has since been amplified due to the global media attention this incident has gathered. Ahmed and his siblings know that his life has inalterably changed. Ahmed will now forever be associated with bomb making wholly without basis. Many believe that Ahmed and his family are terrorists, similar to those responsible for the September 11th attacks on the Twin Towers. This characterization brings both short- and long- term challenges. In the short-term Ahmed fears for his physical safety after receiving many threatening emails.
The letters also assert, "Ahmed's reputation in the global community is permanently scarred." (Emphasis theirs.)
News of "permanently scarred" Ahmed's arrest was met with invitations to the White House, Facebook, Massachusetts Institute of Technology, NASA, and even business school and the music industry.
The family is demanding $10 million from the city of Irving and $5 million from the Irving School District.
The letters also demand a "written apology from Mayor Van Duyne," a "written apology from Police Chief Larry Boyd," and "a written apology from Irving ISD."
The letters claim, "If you fail to comply with the above demands within sixty days from the date of this letter, you should expect that we will file a civil action addressing the causes of action and events described in this letter."
Editor's Add-On: At the time of the controversy, MRCTV's Dan Joseph showed a picture of Ahmed's clock to college students and asked them what it looked like to them. Watch what their reactions: