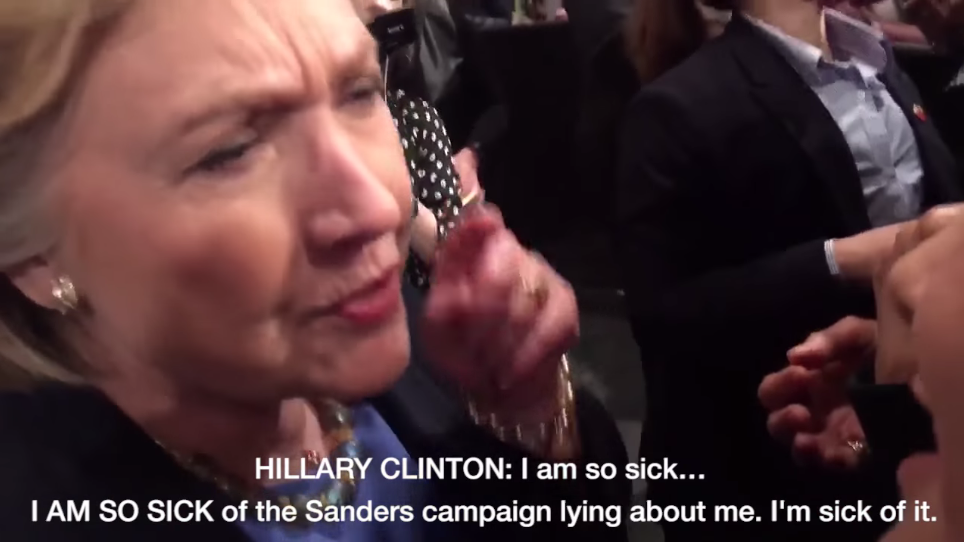 (Image via Screenshot)
Democratic presidential frontrunner Hillary Clinton lost it on an environmental activist at a campaign rally on Thursday when questioned about her campaign contributions from the fossil fuel industry. 
Greenpeace USA activist Eva Resnick-Day first thanked Clinton for her commitment to "tackling" climate change, then asked whether she plans to reject fossil fuel money moving forward.
Instead of pledging to reject fossil fuel campaign contributions like her rival Vermont Sen. Bernie Sanders has, Clinton pointed and yelled about how she is "so sick of the Sanders campaign lying" about her.
"I do not have -- I have money from people who work for fossil fuel companies," said Clinton. "I am so sick… So sick of the Sanders campaign lying about that. I am sick of it."
In January, Greenpeace USA launched an initiative asking the 2016 presidential candidates to pledge to reject money from fossil fuel interests.
Sanders signed the pledge when it was first announced. Clinton responded to Greenpeace USA's request but did not sign. 
According to the Center for Responsive Politics, workers in the oil and gas industries have given Clinton over $330,000 in campaign contributions. Her campaign has not accepted any direct contributions from any corporation, oil and gas included, which would violate election law, reports FactCheck.org.
Watch the exchange between Clinton and Greenpeace USA's Resnick-Day below.