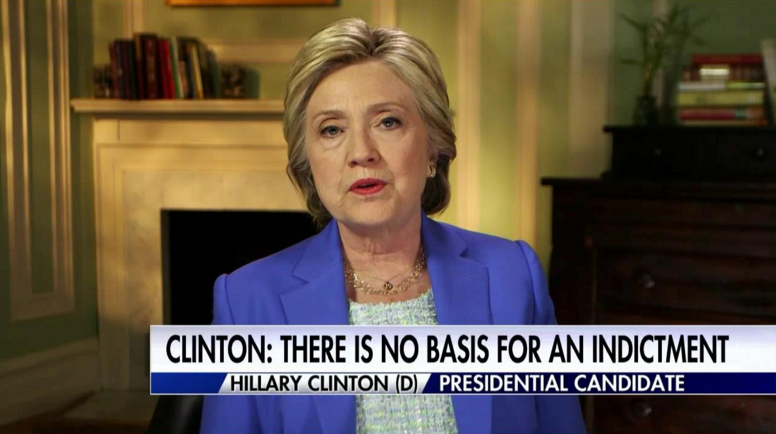 (Image via Twitter)
In an interview with Fox News' Bret Baier Tuesday night, Hillary Clinton said that she is "looking forward to" participating in the FBI's investigation into her private email use while serving as President Obama's secretary of state.
"I've told people to cooperate," said Clinton, referring to her former staff, "and I'm looking forward to also participating."
On a possible indictment over her mishandling of classified information, the presumptive Democratic presidential nominee said, "That is not going to happen."
"There is no basis for it," she argued, "and I'm looking forward to this being wrapped up as soon as possible."
Clinton became flustered when pressed to explain why she refused to cooperate with the State Department inspector general's probe.
"I'm not going to comment on ongoing litigation or make any legal points here," she continued. "I will say with respect to the IG investigation, I have talked endlessly about the emails… So we had all this information in the public record."
"It just – what they wanted to ask, we already talked about – talked about in the public arena," said Clinton. "The [IG] report actually supported what I have been saying for years. The practice was used by other secretaries of state."
"I said it was a mistake," she went on. "I certainly wouldn't do it again. It basically pointed out that the rules were not clarified."
Clinton reiterated her previous claim that nothing she sent or received was marked "classified."
"Nothing that I sent or received was marked 'classified,' and nothing has been demonstrated to contradict that," she asserted. "What you are seeing acted out is the desire of different parts of the government to retroactively classify emails."  
She added that the ongoing FBI investigation is not of concern to her presidential campaign.