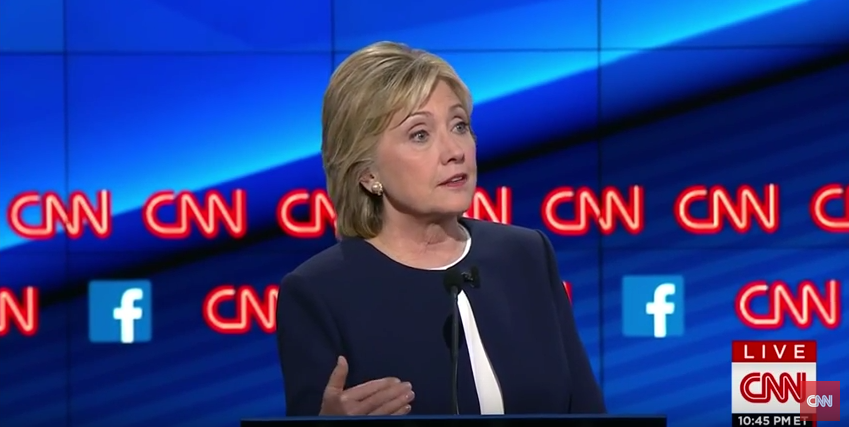 During the first round of debates in Las Vegas on Tuesday, Democratic presidential candidate Hillary Clinton refused to take a position on the legalization of recreational marijuana.
"When asked about legalizing recreational marijuana, you said let's wait and see how it plays out in Colorado and Washington. It's been more than a year since you said that. Are you ready to take a position tonight?" CNN debate panelist Juan Carlos Lopez asked.
"No," Clinton replied. "I think that we have the opportunity through the states that are pursuing recreational marijuana to find out a lot more than we know today."
The former secretary of state went on to say that she does support medical marijuana and awaits more research on the topic.
Clinton quickly pivoted the discussion to drug arrests, providing the same opinion as fellow contender Sen. Bernie Sanders (D-Vt.) that "we have got to stop imprisoning people who use marijuana" recreationally.
Listen to her answer in the short video clip below.
MRCTV Reader,
The liberal media are terrified of the truth, especially when it leads to uncomfortable questions about their own leftist worldview.
MRCTV is the multimedia division of MRC featuring original content and aggregated videos of the news, people, and events conservatives care about.
MRCTV relies on the support of our loyal readers (and video viewers) to keep providing the news and commentary that matter to the American people, not just stories that prop up the liberal agenda.
Make a donation today. Just $15 a month would make a tremendous impact and enable us to keeping shining the light where the liberal media are afraid to tread.
— The MRCTV Team
DONATE
Connect
Sign up for our MRCTV newsletter to receive the latest news.
Sponsored Links