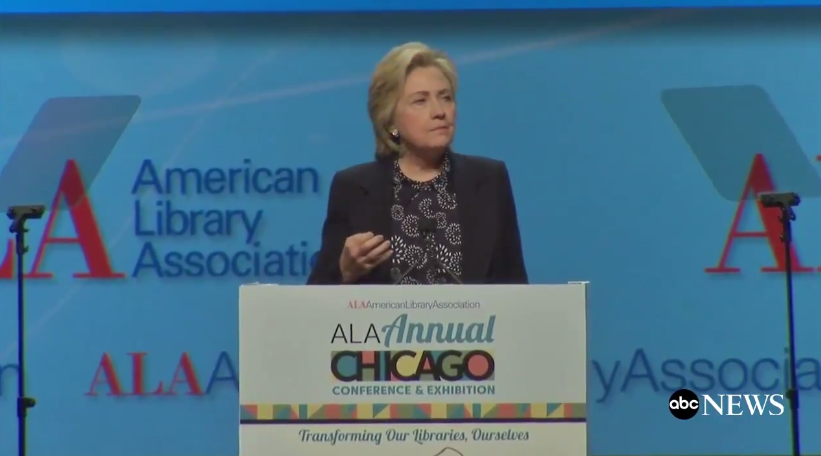 Former Democratic presidential candidate Hillary Clinton took a page from millennials' favorite book and claimed reading the "Harry Potter" series makes people "more compassionate" toward others.
While speaking at the American Library Association's annual conference, Clinton said, "Years of data suggest that reading fiction builds empathy. It helps us put ourselves in others' shoes. One study even found that young people who read the 'Harry Potter' books, which first came out 20 years ago this week, were more compassionate toward immigrants, refugees, and members of the LGBT community."
"And so it's impossible for me to overstate the impact on children who see themselves in the pages of a book and are introduced to people unlike themselves in the pages of a book, and then are inspired to dream a little bigger," she continued.
According to Yahoo! News, Clinton was referencing a 2014 study that compared the attitudes of children who read "Harry Potter" segments dealing with prejudice and regular "Harry Potter" magic. The study found the students who read the parts of the book dealing with prejudice felt "warmer feelings towards international students." When the study was allegedly tried with teenagers and adults, they felt more empathy with gays and refugees.
"Harry Potter" references have been popping up daily in response to the election of President Trump and the "resistance" movement.
Likewise, J.K. Rowling, the author of the "Harry Potter" series, supported Clinton for president.
Clinton has also made other hot topic pop culture references recently, such as comparing herself to Wonder Woman.
Thank you for supporting MRCTV! As a tax-deductible, charitable organization, we rely on the support of our readers to keep us running! Keep MRCTV going with your gift here!