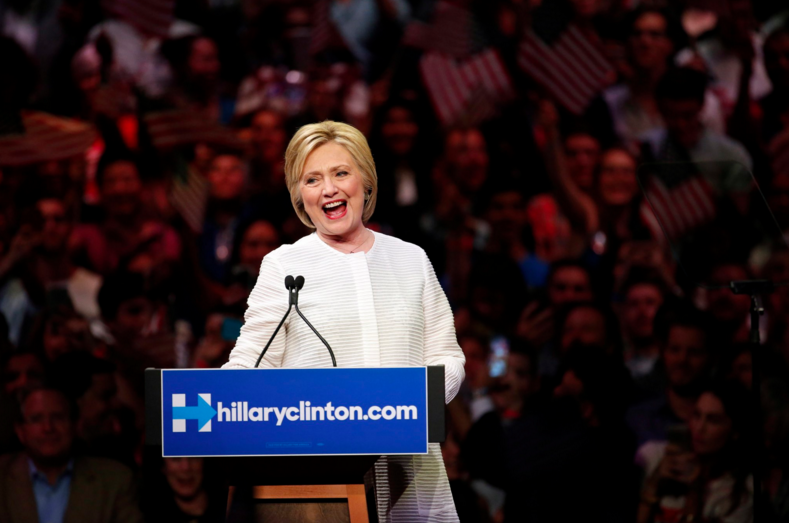 (Image via Twitter)
Hillary Clinton clinched the Democratic presidential nomination on Tuesday, the first woman in history to become a major party's nominee.
After winning the primary contest in New Jersey, Clinton delivered a victory speech at Brooklyn Navy Yard, her campaign headquarters Tuesday night.
Clinton teared up as she stepped up onto the stage:
"We are all standing under a glass ceiling right now," she began, referencing her infamous "glass ceiling" speech she delivered conceding to then-Sen. Barack Obama in 2008. "But don't worry, we're not smashing this one," she joked. 
"Thanks to you, we've reached a milestone," said Clinton, "the first time in our nation's history that a woman will be a major party's nominee."
"Tonight's victory is not about one person," she went on. "It belongs to generations of women and men who struggled and sacrificed and made this moment possible."
She made sure to congratulate her rival Vermont Sen. Bernie Sanders for his "extraordinary campaign."
"Let there be no mistake: Senator Sanders, his campaign, and the vigorous debate that we've had about how to raise incomes, reduce inequality, [and] increase upward mobility have been very good for the Democratic Party and for America," said Clinton.
"To work so hard and come up short... I know that feeling well," she added.
Clinton doubled down on previous remarks, calling Donald Trump "temperamentally unfit" to be president.
"And he's not just trying to build a wall between American and Mexico. He's trying to wall off Americans from each other," she argued. 
"When he says, let's make America great again, that is code for, let's take America backwards," Clinton fired.
Trump similarly criticized Clinton during his victory speech Tuesday night, calling her a corrupt politician for her conduct as President Obama's former secretary of state.
The primary results in New Mexico, South Dakota, and California are still coming in.