You'd think with all the practice and actual events far-left activists have taken part in over the past however many years they'd get better and more effective than just destroying the property of others, lighting cities on fire and then playing the victim when people call them out for their actions. But, far-left activists are stupid. So, here's another example of a mentally defective activists trying to win points amongst their equally ill-informed "comrades."
Some chick that goes by the handle Anarchy Princess — ooo, she's such a rebel — decided to livestream herself destroying a supposed birthday memorial in which people left flowers by the guardrail of the Capitol building steps in honor of the late, murdered Ashli Babbitt.
Here's the video circulating on Twitter (For the full video, click here. Side Note: Very strong language):
Watch as an unhinged @GraysonBrent3 destroys Ashli Babbitt's birthday monument that was setup outside of the Capitol— @CapitolPolice simply stood by and allowed it to happen.

Full video: https://t.co/QZocIyw7au pic.twitter.com/eT4fUw32dg

— Tayler Hansen (@TaylerUSA) October 10, 2022
She seems like a wonderful person with absolutely no daddy issues at all. This broad is so classy that she even published a very brief conversation with Tayler Hansen, the independent journalist who clipped the video and put it on Twitter. Hansen was also one of the journalists who witnessed Babbitt being shot and killed by a Capitol Police officer during the events of January 6, 2021.
Related: And 'Justice' for Who? Man Free on Bond After Admitting to Killing Teen with Car Because He was 'Republican'
"F**K ASHLI BABBITT," the ill woman who supposedly goes by Brianne Marie Chapman wrote replying to a request for comment.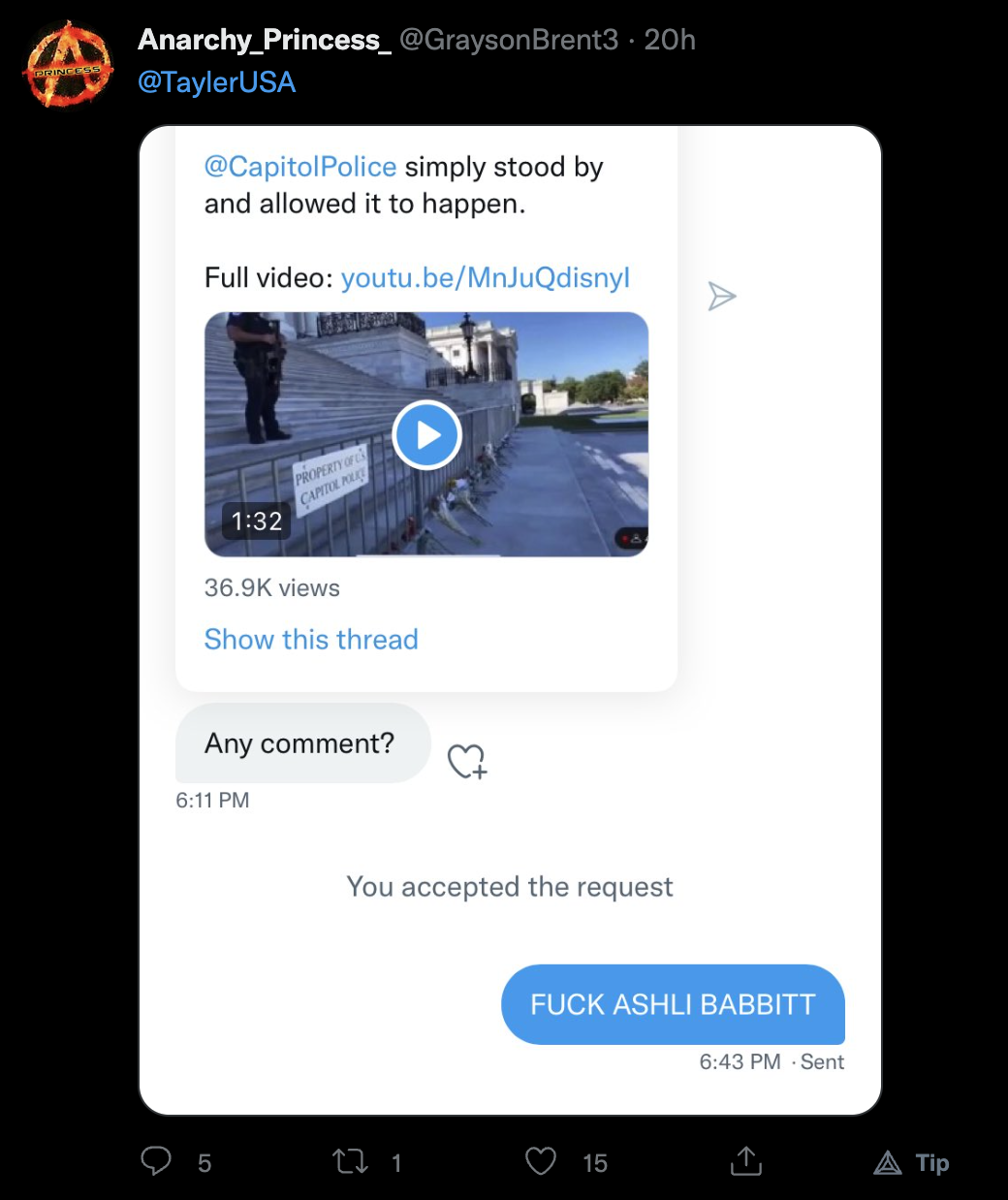 Chapman's name came up when Hansen noted that she allegedly had her children taken away from her "due to not being a suitable parent."
It's worth noting that Brianne Chapman allegedly had her children taken from her due to not being a suitable parent.

I could never imagine why that would have happened!

Any comment? @GraysonBrent3 pic.twitter.com/Pernt5nQWC

— Tayler Hansen (@TaylerUSA) October 10, 2022
If true, her willingness to be a selfish, attention-seeking monster probably had nothing to do with it. Just because she's possibly mad at her own life, doesn't give her the right to stomp on the property of others.
Then again, when you're a classless trash bag, what do you expect? It's not like people like Chapman have any sense of decorum.
Although, to be fair, when the police - the Capitol Police in this instance - do absolutely nothing to prevent what should amount to at least a misdemeanor, actions like the one taken above should come as no surprise to those who understand what it's like to be raised indoors. 
Follow Us On Twitter
Angry motorists in London are so fed up with climate protesters blocking roads that they're finally taking matters into their own hands. pic.twitter.com/O2vZprX5fk

— MRCTV (@mrctv) October 10, 2022