Somebody's got some 'splaining to do! When a large portion of public perception is that you are a "creepy porn lawyer," an "ambulance chaser," and someone who will whore themselves out for the media spotlight, don't be surprised when you find yourself in legal hot water yourself.
Senate Judiciary Committee Chairman Chuck Grassley announced on Thursday that he has referred Stormy Daniels attorney Michael Avenatti and Justice Brett Kavanaugh accuser Julie Swetnick to be part of a criminal investigation into whether the pair took part in a "potential conspiracy to provide materially false statements to Congress and obstruct a congressional committee investigation, three separate crimes, in the course of considering Justice Brett M. Kavanaugh's nomination to the Supreme Court of the United States."
According to a statement on Grassley's congressional website:
Grassley referred Swetnick and Avenatti for investigation in a letter sent today to the Attorney General of the United States and the Director of the Federal Bureau of Investigation. The letter notes potential violations of 18 U.S.C. §§ 371, 1001 and 1505, which respectively define the federal criminal offenses of conspiracy, false statements and obstruction of Congress. The referral seeks further investigation only, and is not intended to be an allegation of a crime.

The referral methodically details the issues with Swetnick's allegations as relayed by Avenatti, the immediate diversion of committee resources to investigate those allegations, the subsequent contradictions by both Swetnick and Avenatti, the lack of substantiating or corroborating evidence, and the overarching and serious credibility problems pervading the presentation of these allegations.
Not one to be outdone, Avenatti responded to the referral on Twitter: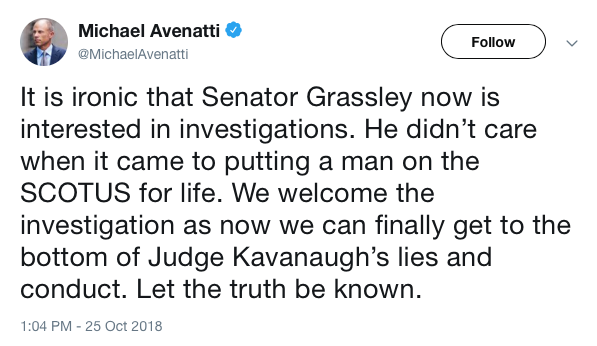 If Grassley didn't care about an investigation into Kavanaugh, it might be because the man was already vetted six times by the FBI over the years. Maybe Grassley didn't care because the accusers, whom the burden of proof squarely falls upon, had "recollections" so jumbled it resembled a word search puzzle.
Oh, and if Avenatti is now saying that "we can finally get to the bottom of Judge Kavanaugh's lies and conduct, wouldn't that imply that Avenatti sat on evidence he had pertaining to Kavanaugh? If he has proof of Kavanaugh's lies, why didn't he present them to the committee or do what he does best, go on CNN?
In reality, Avenatti is just salty that his defamation lawsuit, on behalf of Daniels, was thrown out by a federal judge last week. The ending of the defamation case also included a demand that Avenatti and Daniels pay Trump's attorneys fees.
Avenatti is nothing more than an ambulance chaser who loves the sight of himself on TV and the sound of his voice in front of anyone that'll listen.
H/T: Fox News