Khalil Cavil, a server from Odessa, Texas, says he was accused of being a terrorist in a note left for him at a table he'd just served.
There are just a couple of glaring problems, though: Cavil's actually a Christian, and he isn't Middle Eastern.
Cavil says he served a couple at the Saltgrass Steak House on Saturday night, only to be left with a shocking note on the receipt that read, "We don't tip terrorist," along with a $0 tip on the $100 check.
"My stomach just dropped, I didn't know what to says or what to think in the moment, but, of course, there's hurt there," Cavil said.
Cavil said he doesn't have any roots in the Middle East and is actually a Christian, adding his parents named him "Khalil" after a military friend of his father's who died in an accident.
Since Cavil shared a picture of the note on Facebook, the post has gained over 1,500 shares.
"It was not about the money. It was never about the money, it's about shedding the light on an issue I feel very passionate about," Cavil said.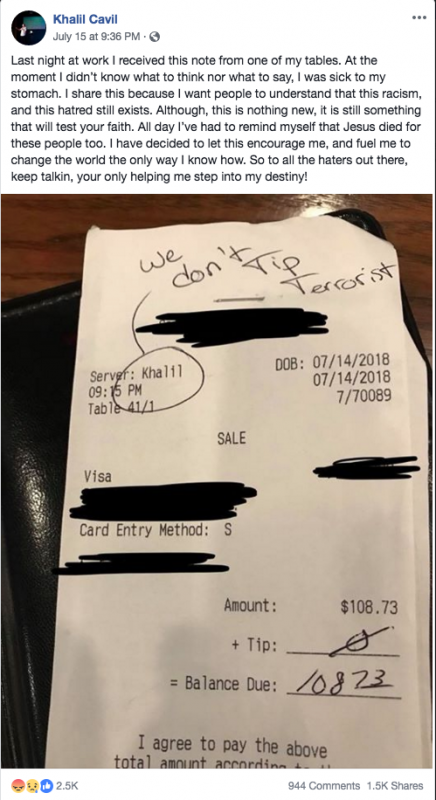 Cavil had a positive take, ending his post by saying, "I have decided to let this encourage me, and fuel me to change the world the only way I know how. So to all the haters out there, keep talkin, [you're] only helping me step into my destiny!"
"We stand by and support our employee. Racism of any form is unacceptable and we have banned this customer from returning to our establishment," company COO Terry Turney told Fox News.