It's no secret that China's national soccer team is awful.
"Men's football in China is a national shame," The Economist writes. "In FIFA's world rankings, China's male players rank 88th; below Estonia, a country whose 1.3m people could fit with room to spare inside a Beijing suburb."
Sure, they qualified for the World Cup once in 2002, but China didn't even manage to score one goal. 
A big fan of the sport, President Xi Jinpang has come up with a solution to the nation's soccer woes:
Force everyone to play.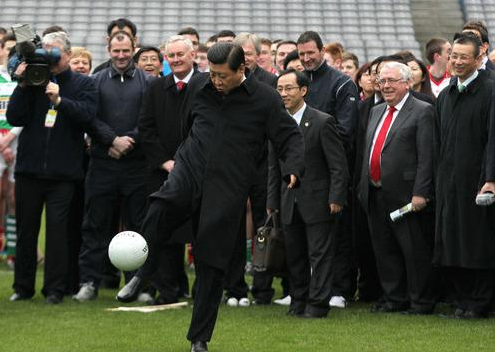 China plans to make football a mandatory part of the national curriculum at schools in hopes that training kids would improve the country's chances at having a decent team in the future.
"Now every child in the nation of 1.35 billion people will play the sport," reports SBN. "That includes more than 650 million men."
For Mr. Xi's sake, who spent his 60th birthday watching China suffer a brutal 5-1 loss at home by a Thai youth team in 2013, the odds might work out in their favor. 
MRCTV Reader,
The liberal media are terrified of the truth, especially when it leads to uncomfortable questions about their own leftist worldview.
MRCTV is the multimedia division of MRC featuring original content and aggregated videos of the news, people, and events conservatives care about.
MRCTV relies on the support of our loyal readers (and video viewers) to keep providing the news and commentary that matter to the American people, not just stories that prop up the liberal agenda.
Make a donation today. Just $15 a month would make a tremendous impact and enable us to keeping shining the light where the liberal media are afraid to tread.
— The MRCTV Team
DONATE
Connect
Sign up for our MRCTV newsletter to receive the latest news.
Sponsored Links