Children's National Hospital in Washington, D.C., one of the nation's foremost medical facilities for treating kids with serious medical conditions, is now denying performing irreversible gender transition surgeries on children after an employee was caught on tape admitting the facility has performed medically unnecessary hysterectomies on biological girls younger than 16.
A recently deleted page on the hospital's website screenshot and posted by LibsofTikTok showed the facility advertising gender transition surgeries for minors and young adults between the ages of 0-21, Fox News reports.
Listed under the hospital's advertised "specialized gynecological care for children and teens" is an offer for "gender-affirming medical care and gender-affirming hysterectomy."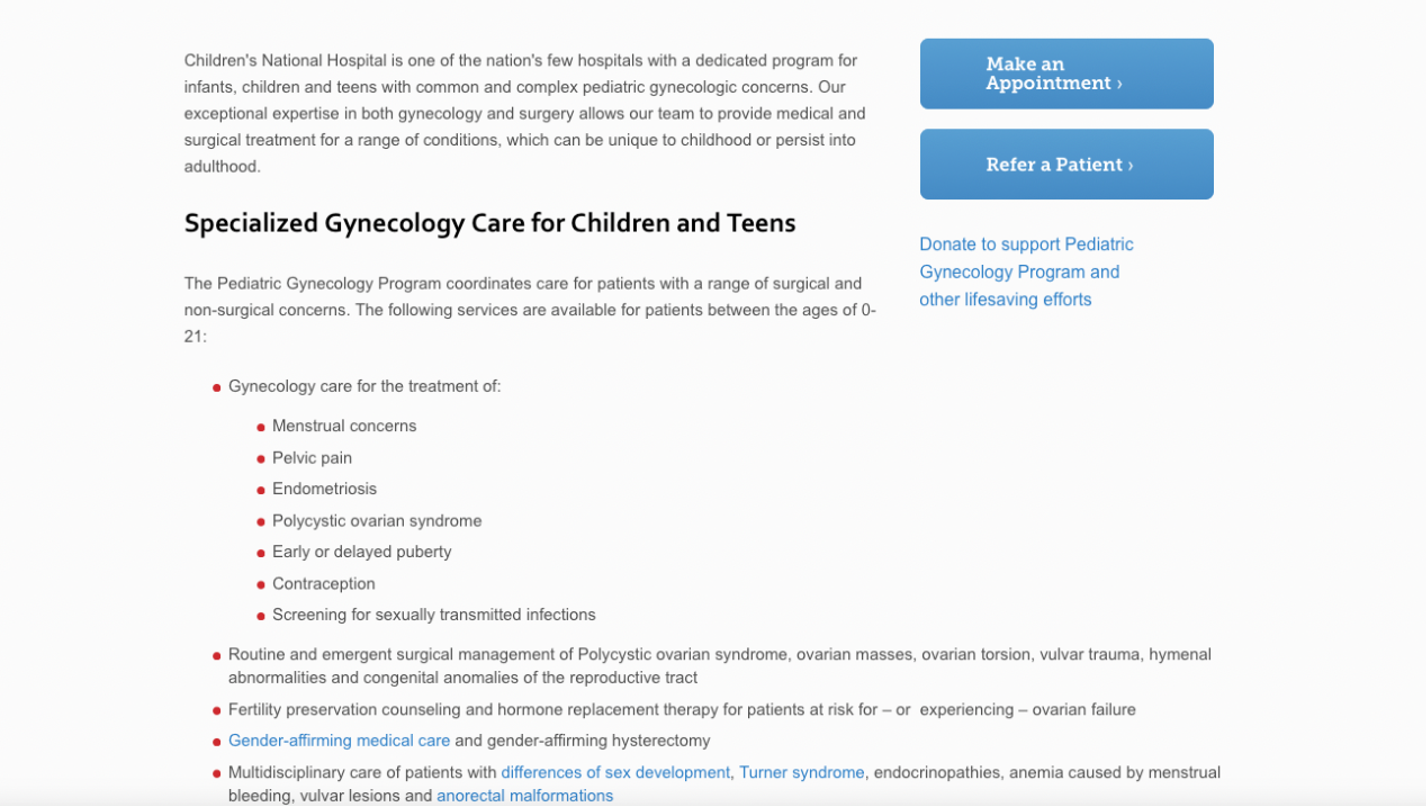 LibsofTikTok also posted an audio recording in which a hospital employee was asked point-blank whether the hospital had performed a "gender-affirming" hysterectomy on a minor. The worker confirmed that the procedure had been done on children younger than 16.
🚨BREAKING EXCLUSIVE REPORT🚨

.@ChildrensNatl admits in damning audio recording that they do "gender affirming" hysterectomies on minors including 16-year-olds and "younger kids"

Full story here: https://t.co/NLtLoew2lT pic.twitter.com/Izt8sGMgTX

— Libs of TikTok (@libsoftiktok) August 25, 2022
"If you guys do do it for a 16-year-old, I'd be happy to come in for a consult or whatever it takes," LibsofTikTok's Chaya Raychik, posing as the mother of a transgender teen, says on the recording.
After being bounced around between several departments, Raychik finally asks one more employee to confirm that the hospital will do the surgery on a 16-year-old patient.
Related: Majority of Californians Support Bill that Would Allow Abortion Until Birth
"Yes," the worker answers bluntly.
"Is it a common procedure for you guys that you do at that age?" Raychik pressed.
"Yes, We have all different types of age groups that come in for that," the employee answers.
When asked what is the youngest child to have been seen at the hospital for a gender-affirming hysterectomy, the worker referenced kids under than age of 16.
"I'm not sure, but I have seen younger kids. And I'm not, you know, due to HIPAA, I'm not allowed to say that, but I have seen younger kids," the worker responded.
Contrary to that recording and what the hospital's own website recently explicity stated, a hospital spokesperson reportedly told Fox News in a statement that it does not offer gender transition surgeries to underage children and teens, nor do they begin hormone therapy before puberty.
"Children's National Hospital is committed to fostering a welcoming and inclusive environment for all and to serving our LGBTQ+ patients and families in the full spectrum of their care," the spokesperson said. "We do not provide gender-affirming surgery for anyone under the age of 18. We do not provide hormone therapy to children before puberty begins. Care is individualized for each patient and always involves families making decisions in coordination with a team of highly trained pediatric specialists."
The spokesperson claimed that any contradictory statement online was merely "a flaw in the design of our website."
In a post on Twitter, the hospital also addressed – and disputed – the audio recording, but did not deny that the recording was of one of its own employees.
August 25, 2022