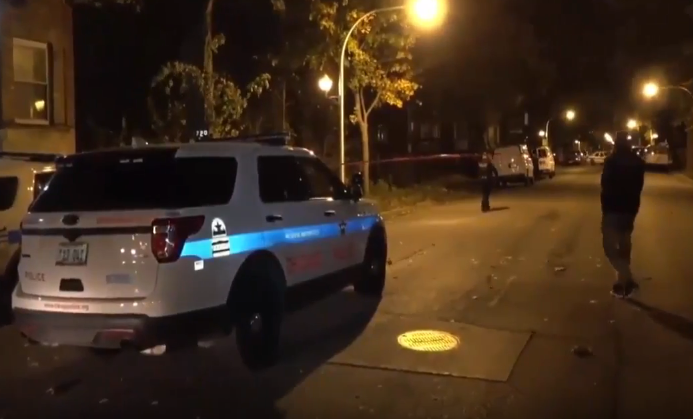 While the overall number of weekend shootings in Chicago were down for a second straight week, the number of people shot dead were up from last week.
Nine people were murdered and 19 others were shot this past weekend in Chicago. The weekend before, five people were killed and 32 others were wounded.
While gun violence in Chicago's nothing new, one shooting in particular finally got the attention of the media. It took the shooting of the grandson of U.S. Rep. Danny Davis (D-Ill.) to garner headlines from the national media.
All too often, shooting incidents in Chicago go unsolved, partly due to the fact that there are simply too many to investigate after a 48-hour period. 
According to the Chicago Tribune:
A 16-year-old boy and a 17-year-old girl were ordered held without bail Sunday after being charged with murder in the shooting death of Jovan Wilson, the grandson of U.S. Rep. Danny Davis.

Tariq M. Harris, 16, and Dijae T. Banks, 17, are charged as adults with first-degree murder in an attack that started as a fight over clothes and shoes, police and prosecutors said. The pair were taken into custody Saturday.
That's the truly sad part. The shooting happened all because the shooter wanted Wilson's shoes. Tell me how a 15-year-old boy loses his life over a pair of shoes?
This is obviously not the first time any of us have heard of young person losing their life over an article of clothing, but the world has become a severely detached place when you can be shot in cold blood over a pair of Nike's.
"The murdering of a young boy over articles of clothing (and) gym shoes demonstrates a total callous disregard over the precious nature of human life," Cook County Judge James Brown said during the teens' deposition. "The citizens of this city need to be protected from these defendants."
I just wish the powers-that-be, not the police but those in government, in Chicago would take every shooting as seriously, and serve justice as swiftly, as one that affects a U.S. congressman.
Congressman Davis is now calling for a State of Emergency, but only after tragedy struck his own family. While the shooting of his grandson over shoes is horrible and deserved swift justice, why not call for a State of Emergency after Chicago continues to shatter homicide records nearly every weekend of every month?
The Chicago Tribune also pointed out:
There have been nearly 700 homicides in the city so far this year and nearly 4,000 people shot, a level of violence not seen in Chicago since the late 1990s, according to Tribune and police data.
It could merely be a coincidence that the last two shooting epidemics come toward the end of two very liberal presidents finishing up their two-term service in the Oval Office, but that could just be me thinking out loud.