If stupid is as stupid does, then one suburban Chicago deli owner must be rolling in a sea of stupid.
Co-owner of Max's Deli in Highland Park, Ill. Greg Morelli took to Twitter mere hours after the Las Vegas mass shooting in order to denigrate the victims of shooter Stephen Paddock.
Without further delay, here's Morelli's now-deleted tweet: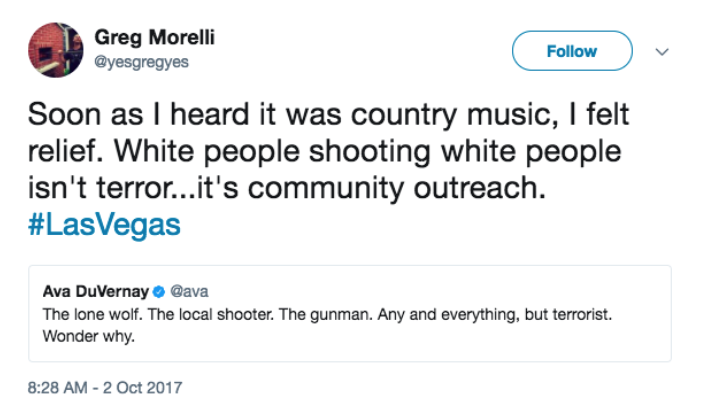 Yeah. This dope actually said that he felt relief that white people were murdering other white people — and not that it actually matters, but he's white!
Throughout Monday, Morelli posted more tweets with his version of "FACT" and "ALTERNATIVE FACT."
Check these out — the stupid is strong with this one:
Morelli's reference to the "Alt-Left" being equal to "Sasquatch" indicates that Morelli doesn't believe radical liberals exist. Pro-tip, Mr. Morelli: If you can't identify radical liberals, you probably are one.
"It was seven in the morning and I was stressed out and freaked out by the shooting," Morelli told the Chicago Tribune in defense of his tweets. "I was trying to participate, and all I did was put my foot in my mouth."
Morelli then tweeted out a "MASS APOLOGY" using only hashtags and a link to a Facebook post that "no longer exists."
The man isn't sorry, especially because this isn't the first time he's been in hot water for his enlightened social media posts.
The Chicago Tribune reported this on Sept. 1:
A Highland Park deli is facing backlash over a Facebook post that includes a cartoon drawing of a man [President Trump] wearing a Nazi armband, giving a stiff-armed salute and donning a T-shirt reading, "I'm with Alt-Right."

Greg Morelli, who owns Max's Deli with his brother, posted the image last week. Morelli frequently posts the deli's menu along with cartoon drawings he creates to the restaurant's Facebook page. He said the recent events in Charlottesville inspired him to use the page to make a strong political statement.
Like many on the left, Morelli uses hate, under the guise of unity, to divide people even further. Classy.