If you're a Chicago Cubs fan, like I am, you realize that Wednesday night could possibly be the biggest night in the history of the franchise.
It has been 71 years since the Cubs have been in the World Series, and 108 years since they last won a Major League Baseball World Series championship. The Cubs will play the final game of the series against the formidable American League champion, Cleveland Indians.
For those of you that feel like work just isn't going to happen for you on the day of game seven of the series, the Cubs organization has the remedy for you!
On Wednesday morning, the Cubs tweeted out a "super official" form that you can fill out and give to your employer in the event that you just can't bear working because you're too preoccupied with the possibility of the Cubs winning it all. (You can print out your own form by clicking here.)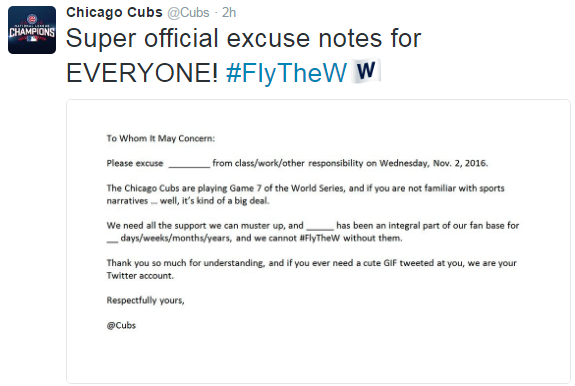 Despite the fact that I am writing this, which means I am working, I have chosen to ignore my company's dress code and wear my Cubs gear (i.e. World Series hat, jersey). In this instance, this form has come in handy and was approved by my superior.
I would like to thank the Cubs organization for encouraging my insubordination, and giving me the strength to show my love for everything Cubs.
If you are Cubs fan, or even if you're not, play hooky for a day courtesy of the red, white and blue Chicago Cubs.
"Next year" might be here, Cubs fans! Go Cubs Go!