Think of the most hysterical anti-Trump leftist you know. Then double the intensity, add a few cups of high-octane coffee, boost the vocal volume and shake in a bag of paranoia. 
The result is Cher's twitter feed.
Cher's tweets are always in full caps and loaded with emojis to bang home the point, which always has to do with America collapsing due to Donald Trump.
On December 6, the entertainer blasted out this: 
IM NOT KIDDING….THIS IS THE WAY ALL DICTATORSHIPS START!! HE MUST ME STOPPED!! NO SH*T, IF HE GETS HIS OWN INTEL GROUP THAT DOESNT REPORT 2 "ANYONE" !!
JESUS THE SHIP OF DEMOCRACY HAS SAILED!! I WONT LIVE UNDER "VLADIMIR TRUMP, DONALD DUTERTE."
Cher is most likely referring to recent reports that The White House and CIA are considering proposals to allow former US intelligence officers to run privatized covert actions, intelligence gathering, and propaganda missions.
Yes, what a terrible idea. Because our existing CIA, FBI, IRS and Deep State are so untouched by bias or political scandal.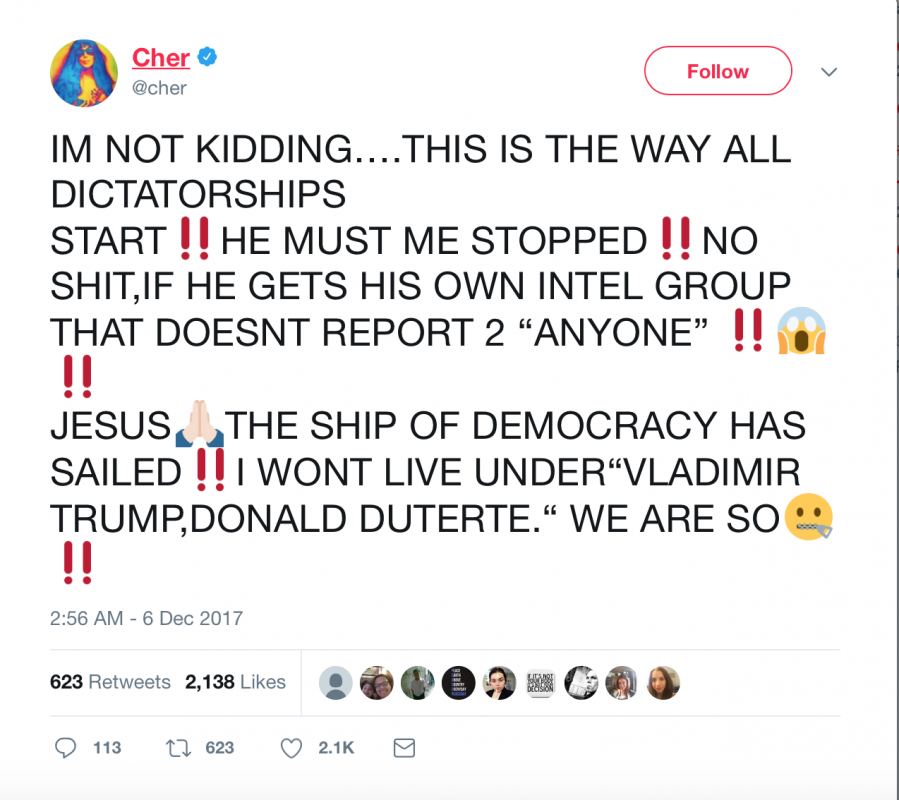 Thank you for supporting MRCTV! As a tax-deductible, charitable organization, we rely on the support of our readers to keep us running! Keep MRCTV going with your gift here!
MRCTV Reader,
The liberal media are terrified of the truth, especially when it leads to uncomfortable questions about their own leftist worldview.
MRCTV is the multimedia division of MRC featuring original content and aggregated videos of the news, people, and events conservatives care about.
MRCTV relies on the support of our loyal readers (and video viewers) to keep providing the news and commentary that matter to the American people, not just stories that prop up the liberal agenda.
Make a donation today. Just $15 a month would make a tremendous impact and enable us to keeping shining the light where the liberal media are afraid to tread.
— The MRCTV Team
DONATE
Connect
Sign up for our MRCTV newsletter to receive the latest news.
Sponsored Links