I would say that Chelsea Handler is stupid, but that would be an affront to actual stupid people. This is a woman who gives idiots a bad name.
The kind-of comedienne and activist took to Twitter Wednesday afternoon, assuming anyone would care what she thinks about the upcoming Singapore summit between U.S. President Donald Trump and North Korean "Supreme Leader" Kim Jong-un on June 12.
Literally no one asked for it, but Handler gave all of us one of her pearls of wisdom. Here's Handler's tweet: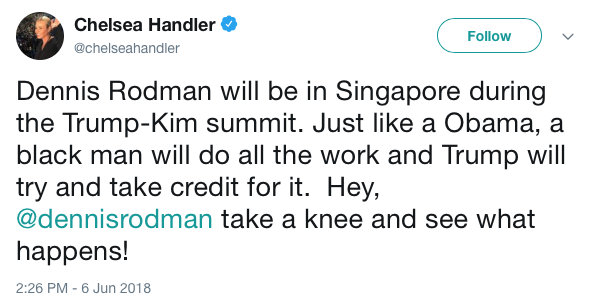 Sure, Dennis Rodman deserves all the credit for what happens at the upcoming summit. That would be like saying a drink deserves all the credit for Handler's proclivity for water sports.
Oh, and Handler's suggestion that Trump will lose his gourd if Rodman took a knee in front of him is straight-up hilarious. It's as if Handler was trying to fit 10 pounds of activist comedy into a five pound bag of reality.
Apparently, I'm not the only one who thinks Handler's a couple slices short of a full pizza. The Twitterverse wasn't having any of Handler's ignorance.
Here's a few responses to Handler's tweet:



It's a good thing that Handler decided to become an activist, because her career wasn't exactly booming. Well, that and she proves with every activist tweet that she knows absolutely nothing about anything she talks about.
Keep it up, Chelsea! You help the conservative cause more and more with every tweet.