In a tweet even less original than her stand-up comedy, Chelsea Handler blamed President Trump Wednesday for "literally" setting the wildfires currently blazing across parts of Southern California.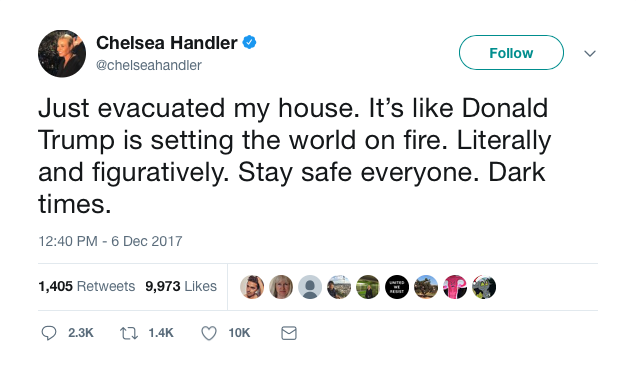 The latest round of California fires – which were, just to be clear, not set by the 45th president – broke out Tuesday and Wednesday in parts of Ventura County and Los Angeles. The largest, dubbed the Thomas Fire, has so far decimated 65,000 acres of land, threatened 12,000 buildings and forced 27,000 to flee, according to the Washington Post. Two others have scorched an additional 20,000 or so acres, collectively.
But with a deadly fire raging across California, forcing people from their homes and doing God only knows how much damage, the most important thing to remember here is to blame Trump – even if it makes no sense.
(Cover Photo: Fortune Live Media)