With career politicians as parents, it's no surprise that the daughter of former president Bill Clinton and failed Democratic presidential nominee Hillary Clinton would speak like a typical ill-informed politician with every passing tweet.
Chelsea Clinton unfortunately took to Twitter on Tuesday to take President Donald Trump and Vice President Mike Pence to task for their responses to Rep. Ilhan Omar's half-assed apology.
Here's Clinton's tweet about the president (Notice how she didn't have the guts to tweet her outrage directly to the president by using his Twitter handle):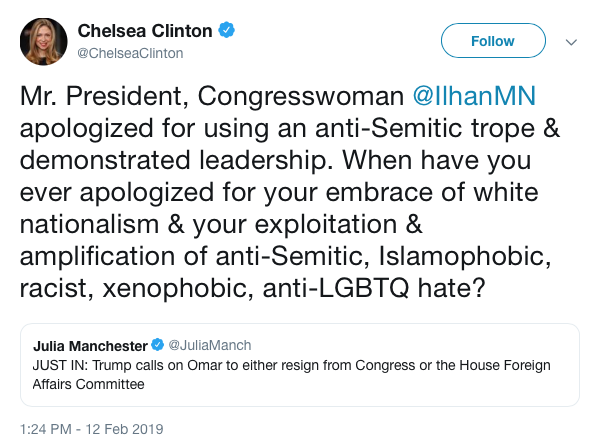 Way to be original, Chelsea! You're so brave for calling Trump the same things that every other "social justice" lemming has called him in the last few years. Please.
Leftists like to throw labels at others they disagree with because it's easy. It doesn't take a lot of work, and you don't even have to formulate a rational argument.
Omar's apology for past anti-Semitic tweets only occurred because she knows what it's like "when others attack me for [her] identity." But, she couldn't release the apology on its own without pushing some kind of agenda towards the end of her sorta apology.
Here's Omar's apology: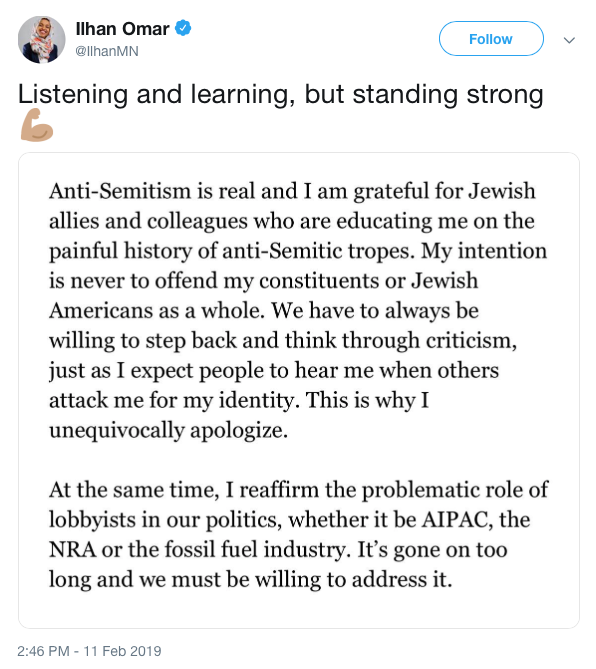 About nine hours after Clinton's Trump tweet, she decided to turn her attention to tweet about Pence, again, not to Pence (At least she retweeted Pence, so there's actually some sort of connection to her comments and the vice president's Twitter account):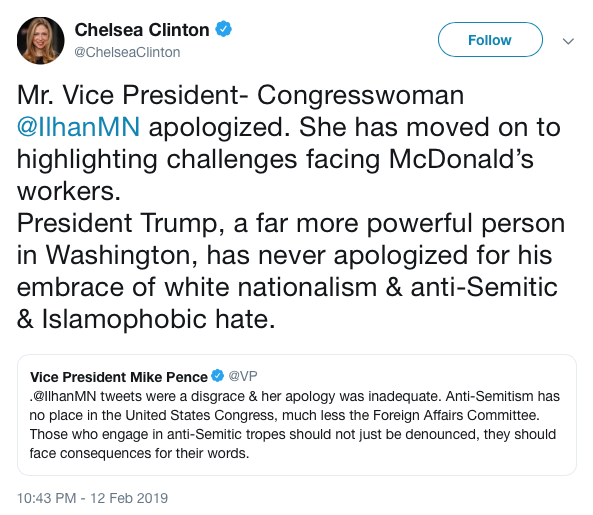 You're right, Chelsea! Omar should definitely be focusing on the "challenges facing McDonald's workers instead of doing something to help national security. Good call!
Also, notice how Clinton addressed Pence, but didn't say one thing about Pence. Instead, she took her allotment of Twitter characters to complain to Pence about the guy that tabbed him to be vice president with the same rhetoric she indirectly posed to Trump.
Like mother, like daughter, I guess.