The Cheesecake Factory apologized Wednesday after two of its employees at their Dadeland mall store in Miami reportedly verbally accosted a black customer wearing a "Make America Great Again" hat, saying in a press release that the company had fired both workers involved.
Eugenior Joseph, 22, said two restaurant employees taunted him over his hat as he sat with his girlfriend's family at their table on Mother's Day.
"They all started getting behind us, and one of the [workers] was saying, 'I'll knock the hat off his head, I'll hit him so hard that I'll knock his hat off,'" Joseph recalled
"They were clenching their fists and standing behind me, trying to scare us and stuff 'I wasn't really intimidated by anything, but … it was just sad," he added.
The Cheesecake Factory later apologized for the incident, saying two employees involved in the incident are "no longer employed with the company."
"No guest should ever feel unwelcome in one of our restaurants and we are very sorry," the company said in its statement. "Our investigation is ongoing and we have reached out to Mr. Joseph directly to ask for his assistance."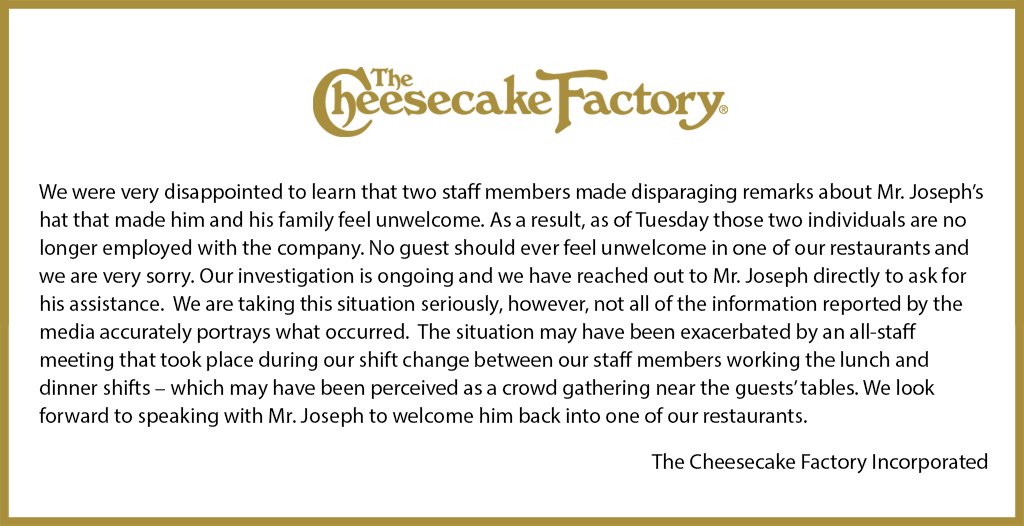 However, the restaurant went on to allege that the entire incident may have been exaggerated.
"Not all of the information reported by the media accurately portrays what occurred," the statement added. "The situation may have been exacerbated by an all-staff meeting that took place during our shift change between our staff members working the lunch and dinner shifts – which may have been perceived as a crowd gathering near the guests' tables."