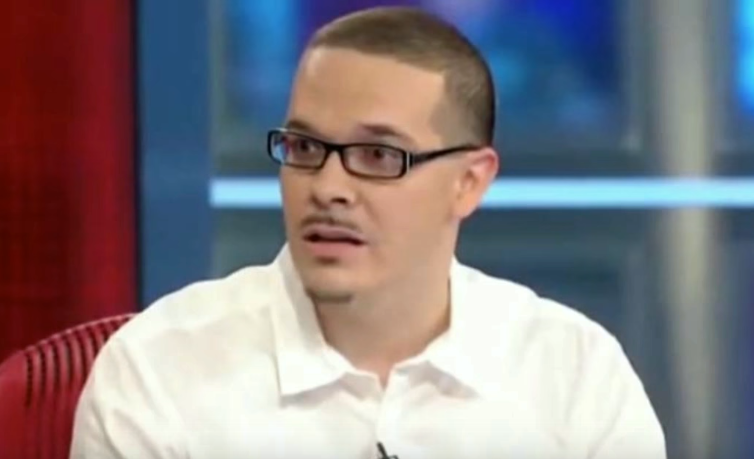 Ah, the Super Bowl. A time when people of all backgrounds come together to eat mass quantities of cheese, beef and chicken. And for the biggest sporting spectacle in the United States. It is typically a fun day for everyone, even if you're not a big sports fan…or a liberal, apparently.
The fun-hating, always divisive and usually racist liberal propaganda machine was out in full force Sunday night on Twitter. Of course, because if they weren't behind a keyboard, they wouldn't dare confront a football fan with political talking points during the biggest game of the year.
Tweets rang out from all over the liberal Twittersphere (often incorrect ones), and many of them couldn't wait a few hours until after the game to force their vomit-inducing ideologies.
New York Daily News writer, Black Lives Matter leader and perennial white guy, Shaun King, tweeted this Sunday evening during the Super Bowl: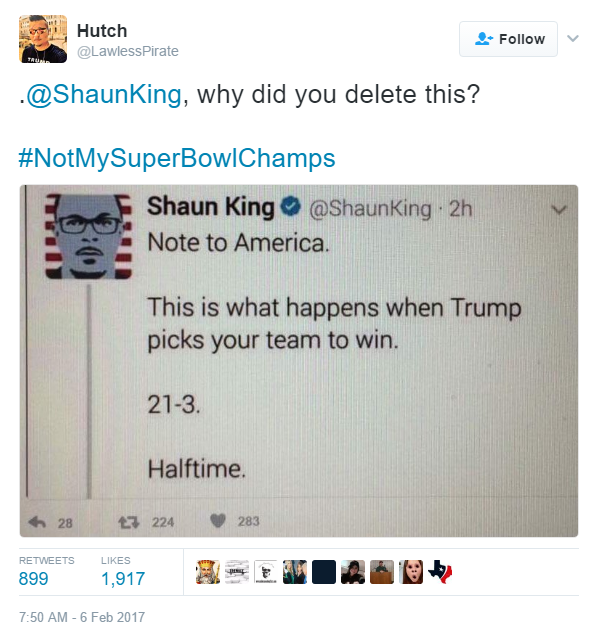 Why did he delete that? Probably because the ending did not go with his summation of the game. (Liberals tend do this with things like games and elections. They count their chickens before the eggs have hatched.)
Just three hours later, King could be seen praising the Patriots: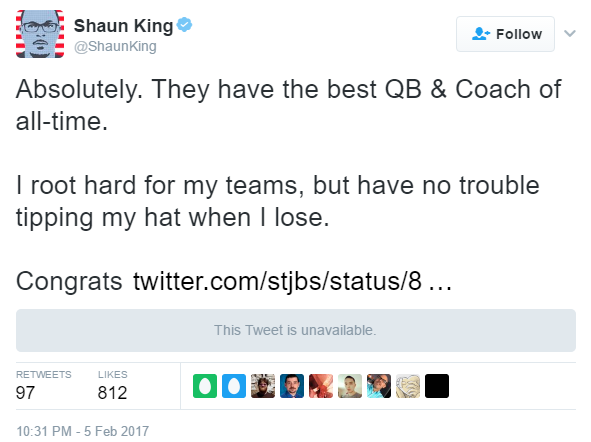 Okay, Shaun. Nice try.
MSNBC's Touré -- yes he only uses one name -- tweeted out this hot piece of garbage during the game as well:

Even though I am an avid sports fan, I would like to thank Touré for this ground-breaking information that Rep. John Lewis owns the Atlanta Falcons and President Trump owns the New England Patriots.
All this time I thought Robert Kraft owned the Patriots, and Arthur Blank owned the Falcons. Stupid me.
Touré might as well have called the Falcons civil rights leaders, which they might be, and the Patriots Nazi-loving fascists, which they're not.
Former Hillary Clinton Press Secretary Brian Fallon tweeted out this gem:

Now we know why Fallon is a "former" press secretary. He didn't wait for the end of the game, much like many pundits at pretty much every news organization can attest to after their preliminary celebration early last November.
And don't worry, Mr. Fallon. California and New York were excluded from the Super Bowl last night, judging by the cities represented in the Super Bowl.
All in all, liberal lunacy is alive and well. Most times, we just have to wait for a major event and they come out in droves to prove time and again just how out of touch with reality they are.