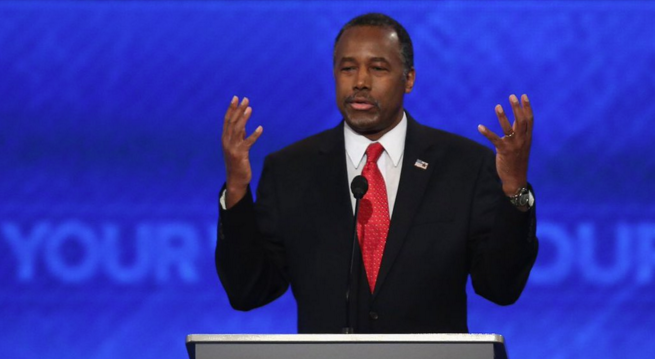 (Image via Twitter)
During his opening statement at the CNN Republican presidential debate in Houston, Texas Thursday night, candidate Ben Carson took the opportunity to remind his fellow contenders that attacking one another will not solve the issues facing America today.
"Americans know that our nation is heading off to the abyss of destruction," said the retired neurosurgeon, "secondary to divisiveness, fiscal irresponsibility, and failure to lead." 
"We will not solve any of these problems by destroying each other," said Carson. "It's not about us. It's about the American people."
GOP candidates, particularly Texas Sen. Ted Cruz and real-estate mogul Donald Trump, have been making headlines recently for attacking one another's record and personal character, drowning out real discussion of the issues that concern Americans the most. 
Listen to a portion of Dr. Carson's statement below. 
MRCTV Reader,
The liberal media are terrified of the truth, especially when it leads to uncomfortable questions about their own leftist worldview.
MRCTV is the multimedia division of MRC featuring original content and aggregated videos of the news, people, and events conservatives care about.
MRCTV relies on the support of our loyal readers (and video viewers) to keep providing the news and commentary that matter to the American people, not just stories that prop up the liberal agenda.
Make a donation today. Just $15 a month would make a tremendous impact and enable us to keeping shining the light where the liberal media are afraid to tread.
— The MRCTV Team
DONATE
Connect
Sign up for our MRCTV newsletter to receive the latest news.
Sponsored Links