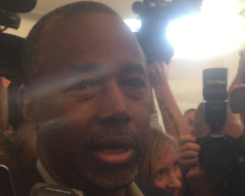 MRCTV caught up with Republican presidential candidate Dr. Ben Carson prior to the CNN GOP primary debate in Simi Valley, Calif. on Wednesday.
Asked why he believes he's rising in the polls, pulling up alongside front-runner Donald Trump, the neurosurgeon said:
"Simply because people are beginning to listen, and to evaluate for themselves and not necessarily listen to the pundits."
"And they recognize that our country is in a great deal of trouble," Carson continued.
"If we don't make some pretty significant changes -- and if we don't get people who have a record of accomplishment as opposed to a record of talking -- then we're not going to make it."
Unlike his competitors, Carson walked into the press "spin room" himself to answer the media's questions.