Grimes is choosing not to reveal the sex of her baby – and she has every right not to share that private information with the public.
The 31-year-old Canadian singer and producer made the reason behind her decision known, however, during a YouTube livestream on Friday in response to a fan's question:
"I don't want to say the gender of the baby … because I feel like their privacy should be protected," Grimes said. "I don't think they can consent to being famous or being in public. And I don't want to gender them in case that's not how they feel in their life."
"I don't know, I just feel like it doesn't need to be known," she went on.
Grimes, who is seven months pregnant with her first child, later took to Twitter and responded to a similar question from a fan, saying, "They may decide their fate and identity."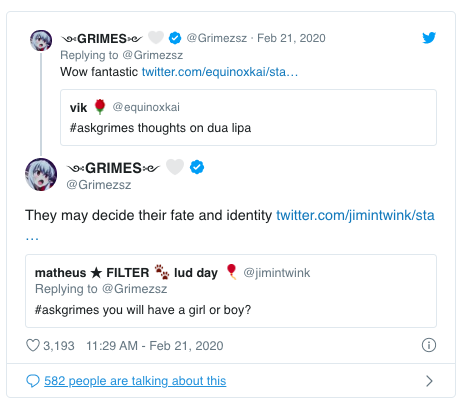 The tweet now appears to have been deleted. 
The eccentric pop singer known for hit songs "Oblivion" and "Delete Forever" has been in an off-and-on relationship with Tesla CEO Elon Musk since 2018 who is rumored to be the father.