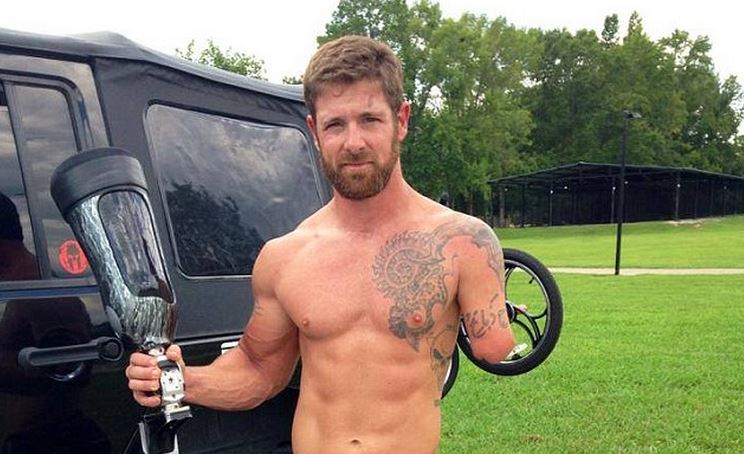 On Tuesday at this year's Espy Awards, ESPN announced that former Olympic Gold Medalist Caitlyn (formerly, Bruce) Jenner will be presented with the Arthur Ashe Courage Award. However, many fans were upset at the ESPN choice, questioning if Caitlyn's action in going public with her change of gender really made the reality TV star the most courageous athlete of the past year.
The ESPN announcement spoke about Jenner's "courage to embrace a truth that had been hidden for years, and to embark on a journey that may not only give comfort to those facing similar circumstances."
Soon after the announcement, social and traditional media erupted with other candidates who some fans felt were more worthy of a courage award. 
According to Fox News, there were of hundreds of tweets supporting Army Sgt.(Ret.) Noah Galloway (pictured above) who lost an arm and a leg while serving in Afghanistan and still competes in marathons, other extreme sports, and most recently placed third in "Dancing With The Stars."
An Internet rumor emerged that Galloway "placed second" behind Jenner, but according to ESPN:
There is no such thing as a runner-up for the Arthur Ashe Award. The organization is not currently going into further detail about how the award's recipient is selected, but the process does not result in winners and runners-up the way a vote does.
Other critics slammed ESPN for not selecting Mount St. Joseph College basketball player Lauren Hill who bravely continued to play for her team while battling brain cancer.
The NY Daily News reported:
College basketball player Lauren Hill, who battled a brain tumor during her freshman year at Mount St. Joseph's before dying, is the name being bandied about on Twitter as the person ESPN should have honored on July 15.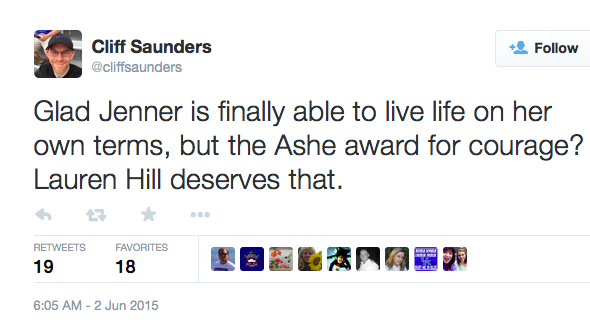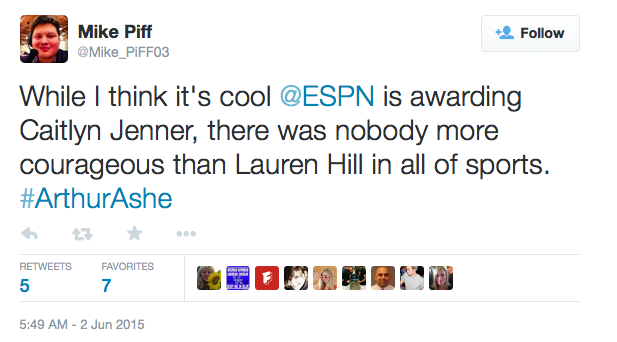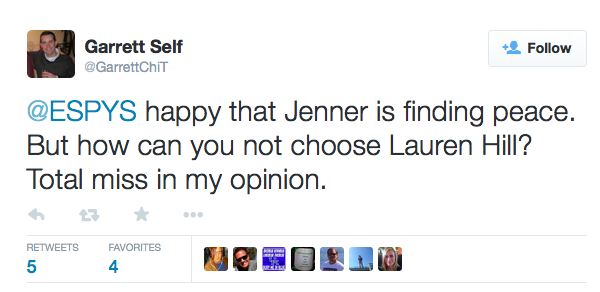 Indeed, Lauren Hill would've been a superb choice, since she dedicated the final months of her life to raising money to fight cancer and raised more than $1.5 million before she died on April 10.
The real question: is Caitlyn Jenner the most courageous person in sports?  She is being given the award for going public with something that was published in the media long before he was interviewed by Diane Sawyer at the end of April. And it was Bruce Jenner's choice to make his life public. He chose to enrich himself for eight years via a reality TV show based on his family life - otherwise, the fact that he was becoming a she might have gone mostly unnoticed.  
On the other hand, Noah Galloway's choice was to serve his country and, after suffering severe injuries, continue to compete in athletics. Lauren Hill's choice was to not lie down when given the fatal diagnosis of brain cancer - instead, she continued to compete and unselfishly raised money so that others would not have to suffer from the pain she faced every day. Examining the choices objectively, it would seem hard to argue that either Galloway or Hill would have been superior choices.
Note: As research for this piece, I polled some of my neighbors to see who they would choose. The only people available were a few kids playing at the park down the block. Their youthfulness did not prevent them from coming up with a unanimous choice (see video below).