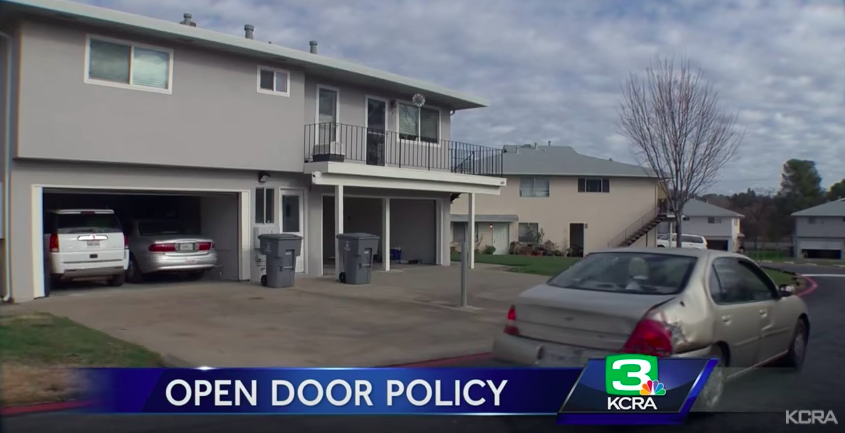 Image via Screenshot
One California home owners' association is forcing its residents to keep their garage doors open all day because one resident was caught allowing people to sleep in his garage.
The outrageous rule, which went into effect on Jan. 1, leaves the entire Auburn Greens community in Auburn, Calif., vulnerable to burglars and breaking and entering. 
To top it all off, the rule doesn't even address the issue of homeowners allowing people to sleep in their garages because the doors are mandated to be open during the day, not at night.
If residents refuse to comply, they face "an immediate hearing notice" and a $200 fine, reports Sacramento-based KCRA.
A notice was posted onto residents' doors last week. It states that "all garage doors ... must be opened Monday through Friday from 8:00 A.M. to 4:00 P.M."
The rule understandably has residents up in arms about their safety and the security of their belongings. 
"If we have to have this open from 8 in the morning to 4 in the afternoon, anybody can help themselves and steal you blind. And they do it in this Auburn Greens complex," said frustrated resident Fred Waidtlow.
"This is not safe. This will just be an open-door policy and saying, 'Welcome, take what you want,'" said neighbor Shally Ia, who plans to keep her garage door closed.
"Fine, let me give you the $200 fine right now. Give me a month so I can get my stuff out, and I might as well clear everything out and leave the garage door open permanently because there is no point of having a garage door then," she said.
One resident suggested a monthly inspection of homeowners' garages instead of the open-door policy.  
Apparently the HOA has the authority to create such an invasive rule. 
According to KCRA, "A spokesman for the California Association of Homeowners Associations said it's possible for an HOA to create this kind of rule. He added that California civil code sets the laws for making rule changes, which typically require a vote of the owners. It's not clear whether that took place."
If the homeowners wish to challenge the rule, they may have to take the HOA to court, where the judge will decide whether the rule is reasonable or poses security concerns.  
The HOA's monthly meeting is scheduled to take place in two weeks and many residents say they plan to be there to protest the rule, Fox 40 reports.
Thank you for supporting MRCTV! As a tax-deductible, charitable organization, we rely on the support of our readers to keep us running! Keep MRCTV going with your gift here!