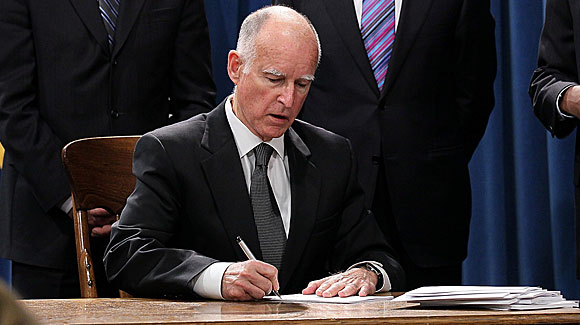 As expected, immediately following Wednesday's deadly shooting in San Bernardino, Calif., gun control activists took to the airwaves and the Internet to call for increased regulations of firearms. But as it turns out, California already has some of the strictest gun control laws in the nation.
The regulations have been vastly expanded since Gov. Jerry Brown (D) took office in 2011. Since then, Brown has signed 18 measures that restrict the purchase and carrying of firearms in the Golden State. Here is a timeline of the anti-gun measures signed by Brown over the past four years:
October 2011
Assembly Bill 809 - Imposed the same record-keeping and registration requirements that applied to handguns on newly purchased rifles and shotguns.
Assembly Bill 144
 - Banned Californians from the "open carry" of firearms. Prohibited firearms from being displayed in public. 
October 2012
Assembly Bill 1527 - Made it a misdemeanor for a person to carry an unloaded firearm that is not a handgun anywhere on his or her person.
April 2013
Senate Bill 140
- Allocated $24 million to identify and seize assault weapons owned by convicted criminals and individuals with serious mental illnesses.
October 2013
Brown signed ten new anti-gun measures into law in one day. 
Assembly Bill 48 -  A "High Capacity Magazine Ban" which required that any person who, prior to July 1, 2014, legally possessed a large-capacity magazine dispose of that magazine. The bill defined a "High Capacity Magazine" as a magazine that can hold more than 10 rounds. The bill made it illegal to purchase the parts necessary to convert guns into assault-style weapons including "large capacity magazines," and requires people selling or transferring ammunition to record the identification of the buyer and report the sale to the state Department of Justice.
Assembly Bill 231 - Requires parents and guardians of children under the age of 18 to store firearms in a locked container or attach a locking device to the firearm.
Senate Bill 683 - Required Californians who purchase rifles and shotguns to first pass a written firearm safety test and obtain a certificate. This law had previously only applied to handguns.
Senate Bill 363 -  Holds gun owners legally accountable if they keep a firearm and know or "reasonably should know" that a person prohibited from owning or possessing a firearms likely to to gain access to the firearm, and that person gains access to the firearm and uses it to cause death or injury to himself or herself or any other person.
Assembly Bill 539 - Allowed those who are not legally permitted to own a fire arm to transfer it to a licensed firearms dealer.
Assembly Bill 500 - Allowed the Department of Justice to extend the waiting time to purchase a firearm if a background check can't be completed within 10 days.
Assembly Bill 170 - Required assault weapon permits to be issued to individuals, rather than to partnerships, corporations or other groups.
Assembly Bill 711 - Banned the use of lead bullets.
Assembly Bill 1131 - Extended the period during which a person who threatens violence is prohibited from purchasing a firearm from six months to five years.
Senate Bill 127 - Required licensed psychotherapists to disclose to local law enforcement within 24 hours the identity of a person who threatens violence against a reasonably identifiable person.
July  2014
Assembly Bill 1964 - Limited the exceptions for single-shot pistols from the state's unsafe handgun roster, excluding semiautomatic pistols altered to not fire in semiautomatic mode.
Assembly Bill 1014 Required courts to notify Department of Justice more quickly when actions are taken that would result in a person being prohibited from owning guns, such as being found mentally incompetent to stand trial.
September 2014
Senate Bill 199 - Requires toy guns to be brightly colored.
October 2015
Senate Bill 707 - Prohibited people with concealed weapons permits from carrying firearms on school and college campuses.