Let's start this off with defining the word, "acting." 
When used as an adjective "acting" means, "temporarily doing the duties of another person," according to Google.
Bryan Cranston, probably best known for his role as Walter White in "Breaking Bad", plays the role of a quadriplegic in his new movie, "The Upside", alongside comedian Kevin Hart.  
The 62 year-old actor acts like a quadriplegic in the movie, because his job was to act like a quadriplegic. 
You can bet this type of acting set leftists off just like smoke sets off that beloved fire alarm your landlord — for some reason — placed right next to your kitchen stove. Why, oh, why?
In a VICE article titled, "Bryan Cranston Advocated for Disabled Actors While Taking a Role from One," writer Taylor Hosking whines about Cranston's abled body having a high level of celebrity and keeping disabled people from seeing the light of Hollywood heaven.
"…his decision to play Lacasse [the billionaire quadriplegic Cranston portrays] has also prevented a lesser-known disabled actor from getting the opportunity to play the role and gain celebrity. It's no wonder, then, that disabled actors in Hollywood have a hard time landing enough roles to amass the name recognition of a franchise leader like Cranston," Hosking wrote.
The outrage didn't stop with this writer. Cue Twitter: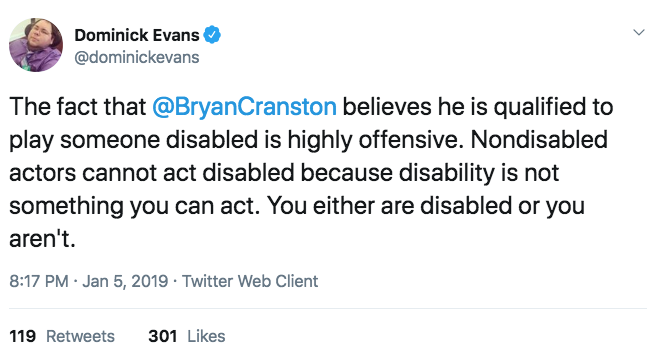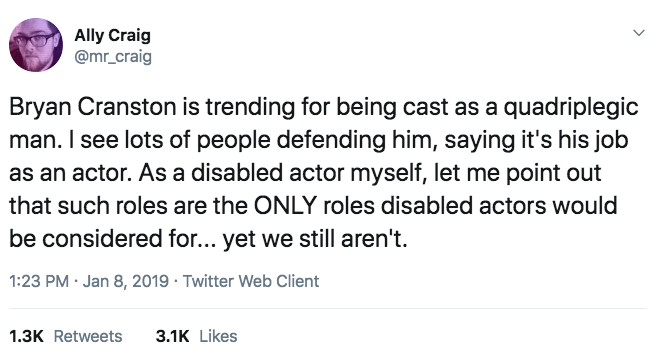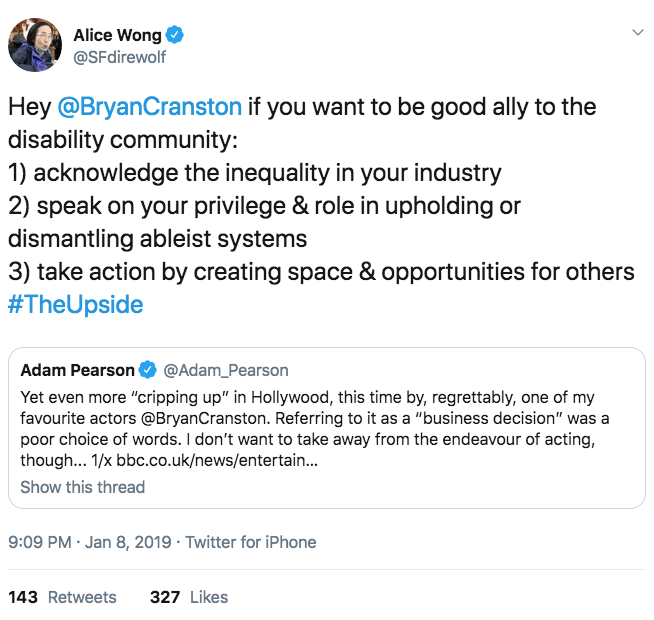 Cranston, holding strong against the winds of this liberal "backlash," told Sky News, "We live in the world of criticism, if we're willing to get up and try something, we have to also be willing to take criticism. We're very aware of the need to expand the opportunities for people with disabilities."
He went on to explain his decision was a "business decision" and said what one would think was obvious -- that actors "act" like other people, even when the person is nothing like them. 
"If I, as a straight, older person, and I'm wealthy, I'm very fortunate, does that mean I can't play a person who is not wealthy, does that mean I can't play a homosexual? I don't know, where does the restriction apply, where is the line for that?" he asked. "I think it is worthy for debate to discuss those issues."
If it were up to the Left, the "line" would be very narrow and wrapped around you twice so you couldn't get loose and "offend" anyone anymore.
These tweets sum up the foolishness quite well: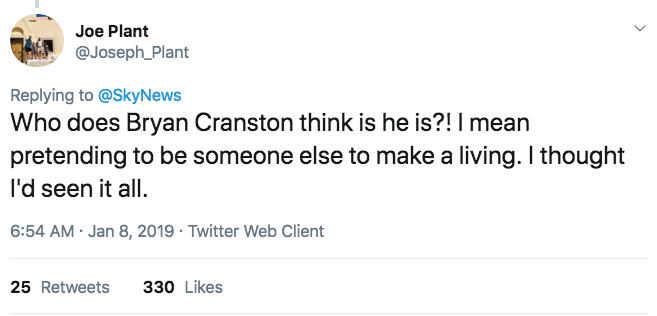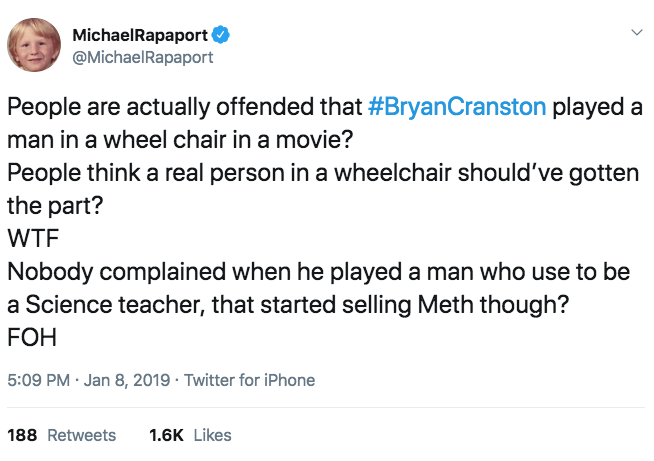 Glad to say Cranston hasn't apologized for taking this role and why the heck should he? From the trailers of this movie, it sure looks like he did a good job to me.