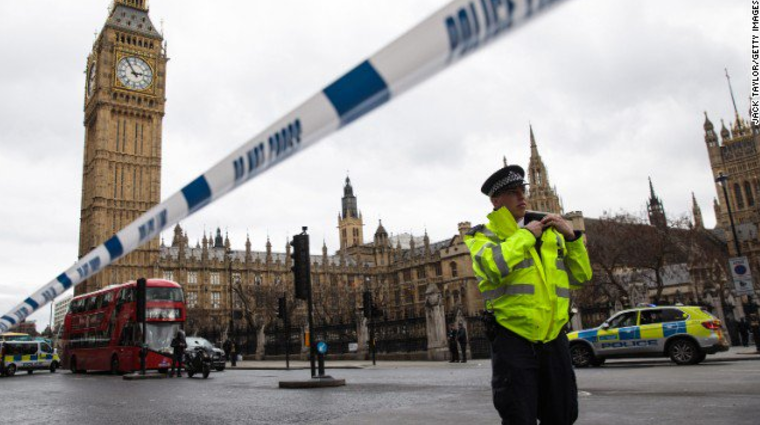 (Image via Twitter)
Despite how ISIS has claimed responsibility for the deadly attack in London that left four people dead, 29 injured, a senior British counterterrorism official says police have found "no evidence" that establishes a direct connection between identified attacker Khalid Masood and the Islamic State terrorist group.
Deputy Assistant Commissioner for the Senior National Coordinator for UK Counter Terrorism Policing Neil Basu issued a statement on Monday calling the claim that Masood was radicalized "pure speculation at this time." 
He notes, "there is clearly an interest in Jihad," however. 
"His attack method appears to be based on low sophistication, low tech, low cost techniques copied from other attacks, and echo the rhetoric of IS leaders in terms of methodology and attacking police and civilians, but at this stage I have no evidence he discussed this with others," says Basu.
He continues, "There is no evidence that Masood was radicalised in prison in 2003, as has been suggested; this is pure speculation at this time. Whilst I have found no evidence of an association with IS or [al-Qaeda], there is clearly an interest in Jihad."
Basu adds that Masood was not a "current subject of interest or part of the current domestic or international threat picture" for UK law enforcement or counterterrorism officials.
Masood was once investigated by the MI5 intelligence agency due to "concerns of violent extremism," MRCTV reports. He was not a subject of any current investigations at the time of the attack.
Masood's criminal history includes assault, weapon possession, and public order offenses.
Metropolitan Police are working to establish whether Masood had accomplices.
Three people – a 30-year-old man in Birmingham on Sunday, a 58-year-old man, and a 32-year-old woman – have been arrested "on suspicion of preparation of terrorist acts," Metropolitan Police announced in a statement on Sunday. The two men remain in police custody. The woman is out on bail until a later date in March.
ISIS claimed responsibility for the attack last week.
A possible connection to ISIS hasn't been ruled out altogether, as police continue to conduct a full-scale counterterrorism investigation. 
Thank you for supporting MRCTV! As a tax-deductible, charitable organization, we rely on the support of our readers to keep us running! Keep MRCTV going with your gift here!