Update (4/3, 6:25 pm): NBC News has reported that authorities have confirmed the death of the female shooter in question:
A woman opened fire at YouTube's California headquarters Tuesday afternoon before apparently turning the gun on herself, authorities said. Four people were being treated for gunshot-related injuries.

Zuckerberg General Hospital told NBC News that it had received three patients and was expecting more, while Stanford Medical Center said it was expecting four or five patients. some may have been injured fleeing the building, authorities said.
Update (4/3, 5:26 pm): NBC News reported the following concerning the shooter and possible victims:
Multiple law enforcement sources tell NBC News that the female shooter is deceased at scene and that the number of victims is unknown, if any.
Original Story: The San Bruno Police Department confirmed late Tuesday afternoon that they have responded to an active shooter situation at YouTube headquarters in San Bruno, Calif.

According to CBS - San Francisco/Bay Area:
KPIX 5 reporter Andria Borba said at least two Homeland Security units were responding. Police radio transmissions describe casualties being taken to local hospitals.

San Francisco General Hospital spokesman Brent Andrew said the hospital received patients from the incident but could not confirm a number.
ABC 7 - Los Angeles reported:
Another law enforcement source confirmed to ABC7's sister station KGO's reporter Dan Noyes in San Francisco that the shooter is a white, adult female wearing a dark top and head scarf.

The source told KGO that there are reports that several people have been injured, but there are no reports of fatalities.
Google, the parent company of YouTube, sent out a tweet regarding the situation: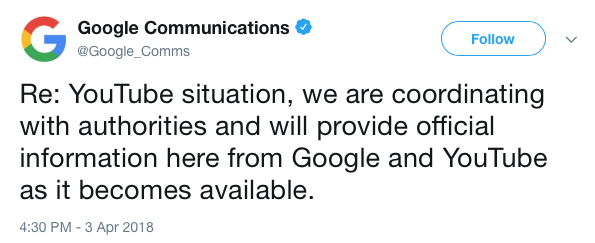 According to Vadim Lavrusik - a man who tweeted that he was inside the building during the situation - at least some of the people inside have allegedly been evacuated from the building.
Here's Lavrusik's tweets: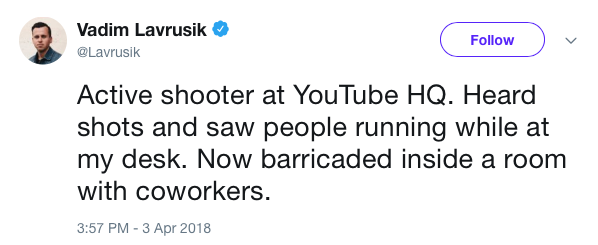 Stay tuned to MRCTV for updates on the situation at YouTube headquarters.