With all of the questionable remarks coming from North Korean representation over the last couple of weeks, it might have seemed as though they would have been the ones to back out of the scheduled June 12 summit between U.S. President Donald Trump and North Korean "Supreme Leader" Kim Jong Un.
In an unexpected turn of events, the White House released a letter written Thursday by Trump to Kim Jong Un telling the North Korean dictator that their planned summit is now off.
"Sadly, based on the tremendous anger and open hostility displayed in your most recent statement, I feel it is inappropriate, at this time, to have this long-planned meeting," Trump wrote in the letter.
Here's the letter: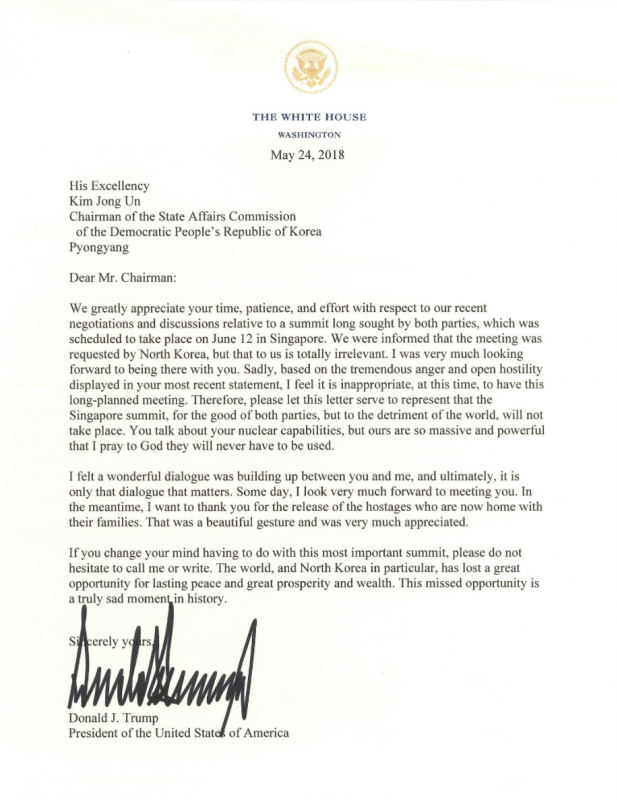 The "recent statement" that the letter presumably refers to came earlier on Thursday as the North Korean state-run KCNA news agency reported - according to CNN - that Vice-Minister in the North Korean Foreign Ministry Choe Son Hui made inflammatory comments towards the U.S.
"Whether the US will meet us at a meeting room or encounter us at nuclear-to-nuclear showdown is entirely dependent upon the decision and behavior of the United States," Choe said on Thursday.
Choe even went so far as to call Vice President Mike Pence a "political dummy" for Pence's remarks about U.S. National Security Adviser John Bolton's assertion that the U.S. could use the "Libya model" if Kim Jong Un didn't make a denuclearization deal during the summit.
"There was some talk about the Libya model," Pence told Fox News. "As the President made clear, this will only end like the Libya model ended if Kim Jong Un doesn't make a deal."
The ironic part is that hours after Choe's statement was reported, North Korea apparently blew up - what they claimed to be - a nuclear test site in the presence of international reporters, according to Fox News.
Maybe if North Korea didn't act in such a bi-polar fashion, the summit between Trump and Kim Jong Un would still be going forward. As of right now, that summit appears not to be taking place.